MSU grad students participate in Three Minute Thesis competition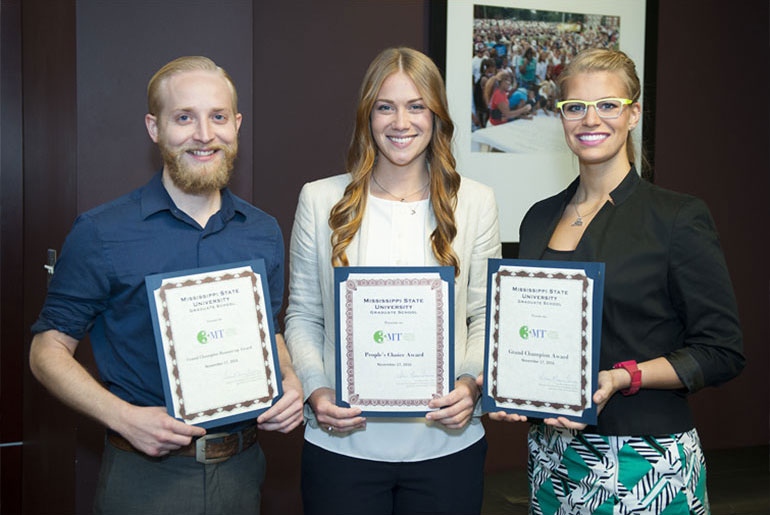 An 80,000-word thesis would take nine hours to present, but nearly 50 Mississippi State graduate students recently had less than three minutes to convey their months or years of complex research during the university's fourth annual Three Minute Thesis competition.
Sponsored by the Office of the Graduate School, the 3MT competition is open to all graduate students in good academic standing. Students may compete in arts and humanities; life and biomedical sciences and engineering; physical, mathematical, computational sciences and engineering; or social and behavioral sciences.
Caitlin J. Wenzel, a master's student studying veterinary medical science, was named the Grand Champion. Her research talk, "IV Magnesium Sulfate: A Rescue for Horse & Human Asthmatics," earned a $1,000 prize. Also an animal and dairy sciences bachelor's graduate of MSU, Wenzel will advance to the Conference of Southern Graduate Schools (CSGS) 3MT Regional Finals held next March in Annapolis, Maryland.
Abbey E. Wilson, a life sciences/animal physiology doctoral student, summarized her research in a three-minute talk titled "Linking Chemistry to the Behavior of Giant Pandas," which the audience voted as the People's Choice Award winner. Wilson received a $500 award.
John T. Buol, a master's student in plant and soil sciences/weed science, was named a finalists for his research talk, "Keep Cotton Out of the Weeds—The Hormonal Way."
Developed by The University of Queensland, Australia, the 3MT competition develops academic, presentation and research communication skills and supports the development of research students' capacity to explain their work effectively in language appropriate to a non-specialist audience.