Public health-focused MSU grad student earns national honor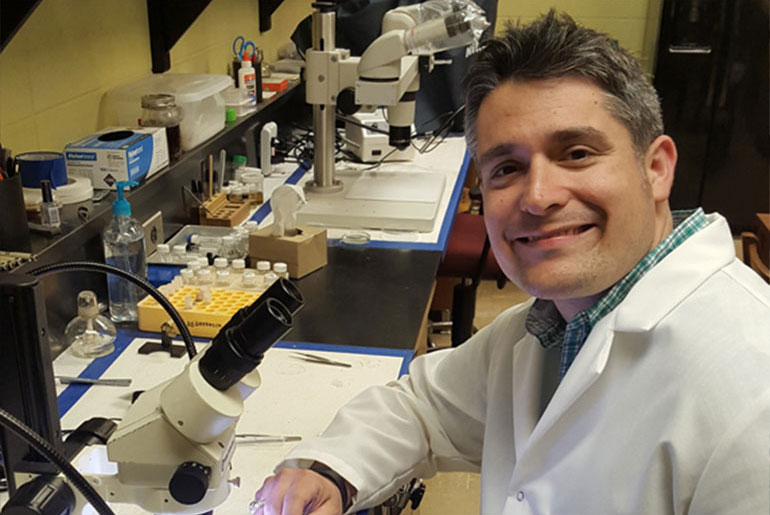 A Mississippi State doctoral student is among five receiving a 2016 scholastic honor from the Entomological Society of America.
José Santos Portugal III recently was awarded a $500 research grant by the society's medical, urban and veterinary entomology section. A Euless, Texas, native, he is an entomology major in MSU's Department of Biochemistry, Molecular Biology, Entomology and Plant Pathology in the university's College of Agriculture and Life Sciences.
Portugal entered MSU after graduating from Texas A&M University. What began as his pursuit of a master's degree under extension professor Jerome Goddard evolved into doctoral-level study.
Portugal's research is focused on medical entomology, the study of insects and other arthropods that transmit pathogens. "I'm studying an immature species of ticks that has been known to transmit animal and human pathogens," he explained.
"By gaining a better understanding of the ecology and behavior of this species, we can better implement plans in public health to keep the pathogens from passing on to people and pets," he said.
Portugal credits Goddard's recommendation and professional standing among the reasons his scholarship application was chosen. "In addition to writing letters of recommendation, he also pushes me to write and publish, and that is important in academia," Portugal said of his mentor.
He expressed appreciation that Goddard "really challenges you and forces you to think outside the box. I think that not only my publications, but my activities and service were helpful in putting me above some of my peers for this award."
Goddard, an MSU medical entomology doctoral graduate, is a former state medical entomologist with the Mississippi Department of Health. He also held appointments at the University of Mississippi Medical Center's School of Medicine as a clinical assistant professor of preventative medicine and an assistant professor of medicine.
Portugal said he chose MSU—and Goddard—for graduate study after being involved with tick research at TAMU.
"Dr. Goddard is the person to study under if you want to work with ticks in the South," Portugal emphasized. "He has an international reputation for his work in medical entomology, particularly with vector ecology and behavior."
In addition to research achievements, the ESA scholarship program recognizes a student's teaching experience and service work.
"Santos is one of the most productive students I have ever had," Goddard said. "Not only that, but he cheerfully and enthusiastically offers to help on all sorts of projects in our lab, whether it is related to his own research or not."
Goddard praised the young Texan's willingness "to help other graduate and undergraduate students in our department, teaching them and offering encouragement in both their personal and professional lives."
After completing MSU doctoral studies next year, Portugal said he plans to continue with his personal mission.
"I would love to conduct research at a university or work somewhere like the Centers for Disease Control and Prevention or a public health department," he said. "Whatever it is, I want what I do to really improve the condition of public health in the United States."
For more about the Entomological Society of America and its student awards programs, visit www.entsoc.org/students/student_awards.
Information about MSU's biochemistry, molecular biology, entomology and plant pathology department is found at www.biochemistry.msstate.edu.
Biochemistry, Molecular Biology, Entomology and Plant Pathology