Our People: Jesse Newton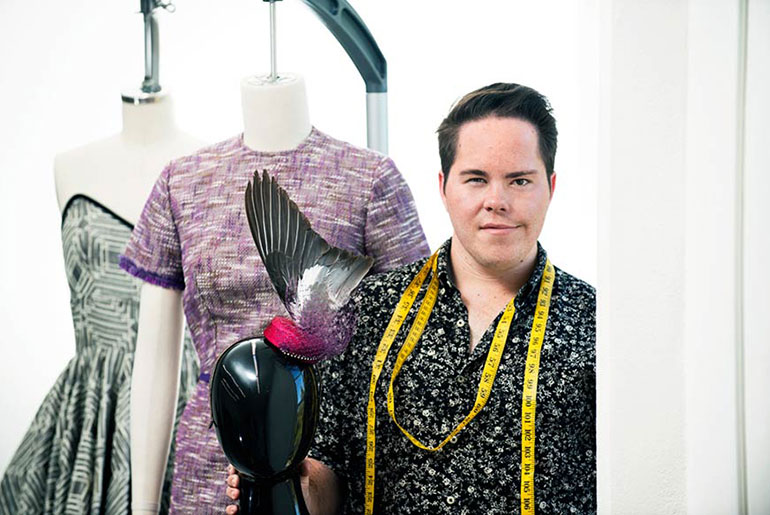 Senior Jesse Newton of Eupora really did not expect a response when emailing Iva Ksenevich, whom he had been following on Instagram.
According to the Mississippi State human sciences/fashion design and merchandising major, only in his wildest dreams would the international haute couture hat designer respond to his inquiry—then offer a six-week internship to study millinery with her in Moscow, Russia.
Ksenevich's creations are world-renowned for their feather, trim, beadwork and small-detail embellishments.
"When I reached out to her, I just assumed she was in New York; I hadn't even looked," the university Dean's List Scholar said. "She told me I'd need a Russian visa in order to work for her."
Undertaking a summer travel and study experience more than 5,500 miles from home clearly was driven by this most-unexpected opportunity. Even though he "probably won't go into hat making when I graduate," Newton said he knew working with Ksenevich could help him develop the intricate skills needed for a successful career.
"I'm not as detail-oriented as I'd really like to be, so having more experience hand sewing, beading and working with very small, intricate things are helping my design process," he said.
The stay in Russia's capital involved 10-hour workdays during which Newton hand sewed hats, and even a few gowns. Afterwards, he often joined another intern to take in sites of the major world city. One night, just because they could, "my roommate and I sat outside the Russian ballet and ate popcorn."
There also was a good amount of alone time, some of which Newton filled by eating breakfast in Red Square each workday. "Really, though, after a full day sometimes I just went home and watched Netflix. It's incredibly satisfying to hear your native tongue when you've been listening to a foreign language all day."
In addition to honing his skill sets, Newton said learning to develop a strong sense of design independence was an unexpected internship benefit. The impulse to second-guess his work and a need to constantly ask if things are being done correctly quickly became non-issues as Ksenevich taught him to trust his instincts and common sense.
Newton remains challenged to accept the reality of it all. "We were doing photoshoots and sending lookbooks off to places like Vogue and Harper's Bazaar. I still can't believe she said yes to me. It definitely taught me not to be afraid to ask; the worst she could have said was no.
"Instead, I got the opportunity of a lifetime from it."