MSU leads Western horse riding clinics in Europe
Author: Sarah Buckleitner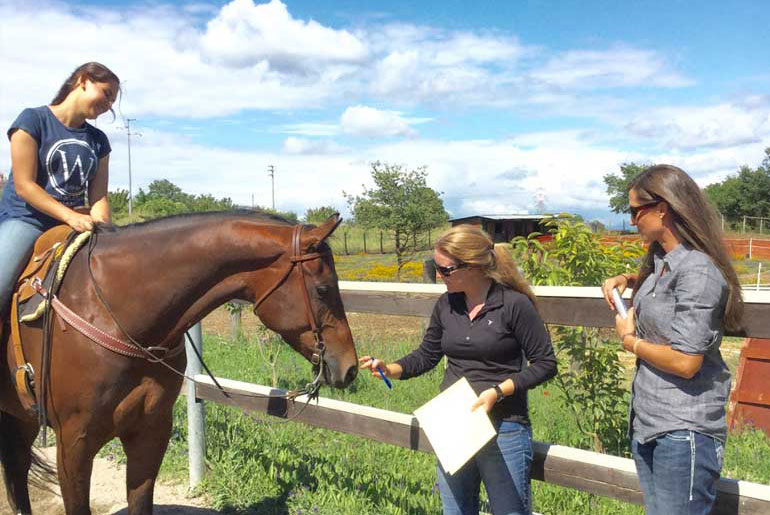 A Mississippi State equine specialist and his team of university students and staff members recently shared the American tradition of Western horseback riding during clinics conducted in Europe.
While traveling through Austria, Italy, Germany and Slovenia, Clay Cavinder and his team led clinics funded by the American Quarter Horse Association. The training was designed to help give horse lovers opportunities to learn a new discipline.
Cavinder is an associate professor in College of Agriculture and Life Sciences' animal and dairy science department. He also holds an MSU Extension Service appointment.
"In the United States, everyone rides horses and it's very easy to learn," he said. "You can find a group of people to ride within any discipline in which you're interested." For Europeans, however, "it's a lot more difficult to learn when it comes to Western riding."
Cavinder said the clinics' secondary mission was to help spread the word about the American Quarter Horse, a breed developed in American colonies during the 17th century as shorter horse races grew in popularity.
The stocky, powerful animals often outran thoroughbreds over quarter-mile runs, which is how they earned the name. Since 1940, when the American Quarter Horse Association was formed and the first stallion was registered, the breed has become famous for its handiness as a ranch horse and, in particular, its innate "cow sense."
Seniors Hannah M. Miller of Starkville, Samantha G. Miller of Sylvan Springs, Alabama, and Ashley Palmer of Jackson were the clinic assistants. All are animal and dairy sciences majors and members of MSU's 2015 nationally ranked horse judging team.
"One of the coolest parts of this experience was watching them become teachers," Cavinder said of his students.
A Texas A&M University doctoral graduate, Cavinder said the quarter horse's popularity remains minimal overseas even though many people worldwide have an interest in ranch riding, cutting, reining and barrel racing. The numbers likely will continue growing as these activities become more popular worldwide, he said.
Cavinder said European students were especially interested in ranch riding, which emphasizes the animal's versatility, movement and attitude by having horse and rider maneuver a set pattern around the arena. Jogging over natural logs and demonstrating flying lead changes—where the leading front and hind legs smoothly change from one side to the other while suspended in air—are among common pattern elements.
To benefit interested MSU students, Cavinder earlier developed a campus class with the clinics in mind.
"I wanted to create a class that would not only help Mississippi State students with their own horses, but also would provide them with guidelines on how to teach others," he said. "I hoped to develop clinicians that could travel throughout Mississippi, teaching youth and adults."
Training programs have been held in Canton, Starkville and Winona, he said.
Cavinder-developed clinics strongly emphasize the mastering of basic skills before moving to more advanced ones.
"Everyone wants to go fast, but it's important to have control and learn from the beginning; that way you can communicate clearly with your horse," he said.
Ashley Shiffler, horse unit manager for the campus-based Mississippi Agricultural and Forestry Experiment Station, also was part of the traveling team. She described the European project as a once in a lifetime opportunity.
"It was really amazing to share our knowledge with students who don't have as many opportunities in Europe, but it was the relationships we formed overseas that was the most exciting to me," Shiffler said.
Due primarily to cultural differences, clinic instruction could be complicated. Nevertheless, Cavinder said all the Europeans involved seemed both open to instruction and excited to learn.
"In the end, it's a really amazing team effort between instructors, students, horses and interpreters," he said.
For more information about the animal and dairy sciences department, visit www.ads.msstate.edu; the College of Agriculture and Life Sciences, www.cals.msstate.edu.