Paving the way for green space: ASLA chapter converts parking spaces into temporary park
Author: Sarah Buckleitner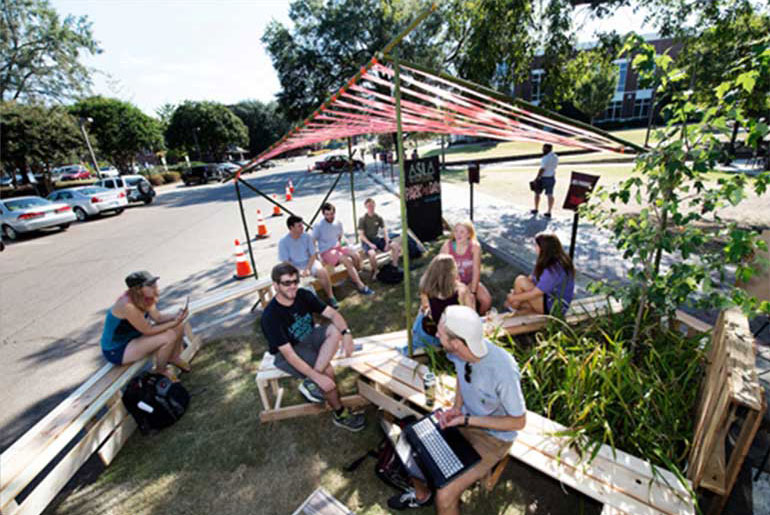 Each year on the third Friday of September, people around the globe turn their attention to PARK(ing) Day, an annual event that encourages artists, designers and citizens to collaborate in turning parking spaces into temporary parks.
Mississippi State University's student chapter of the American Society of Landscape Architects (ASLA) hosted PARK(ing) Day today [September 16] in the parking lot near Colvard Student Union.
According to the PARK(ing) Day website, the event's mission is to "call attention to the need for more urban open space, to generate critical debate around how public space is created and allocated, and to improve the quality of urban human habitat."
"Being on a campus that is covered in luscious vegetation and large canopy trees, we tend to take for granted the beauty and importance of green spaces that many urban environments do not have," Abbey Wallace, MSU ASLA Student Chapter president, explained.
The group constructed the installation, incorporating things normally found in a park: benches, greenery, views, shade and space for social interaction.
"Our ASLA chapter worked together to design and build a temporary park that is not only functional and attractive, but is easy to construct, transport and assemble. We designed and built our park in segments so we could piece it together like a puzzle," Wallace said.
The students also kept to their mission of making the park environmentally-friendly by asking local businesses to donate used items.
"Since our park is temporary and will only be visible for a day, we did not want to make a negative impact on the environment by purchasing materials. We reached out to the local hardware and gardening stores asking them to donate excess materials that would have been thrown away. Thanks to the local community's support, we were able to use mostly reclaimed materials, including pallets, wood, bamboo trimmings, sod and a variety of plants," Wallace said.
Students hope that the park helps bring greater attention to how creative utilization of space can help lead to a healthier lifestyle.
"We want to promote a green, active lifestyle that encourages people to reduce the amount of transportation by car and replace shorter trips by walking or biking," Wallace said.
While the MSU ASLA Student Chapter hopes to educate the public with their installation, landscape architecture associate professor Taze Fulford spoke to what the students are taking away from the experience.
"I believe the most exciting thing the student group has done is formed friendships with newer students in our department. The freshmen and sophomores have really stepped up and put hard work in with the upperclassmen in the department to make this happen. These students are forming relationships that will last throughout their time here at MSU, as well as when they enter the workforce," Fulford said.
Students also have been able to hone their collaboration skills, an integral ability for most landscape architects.
"The collaborative effort between students is a lesson on how to work in professional settings after graduation. Design and construction are all about teamwork," Fulford explained.
For more information on the Department of Landscape Architecture in MSU's College of Agriculture and Life Sciences, visit www.lalc.msstate.edu.