MSU celebrates undergraduate research with summer symposium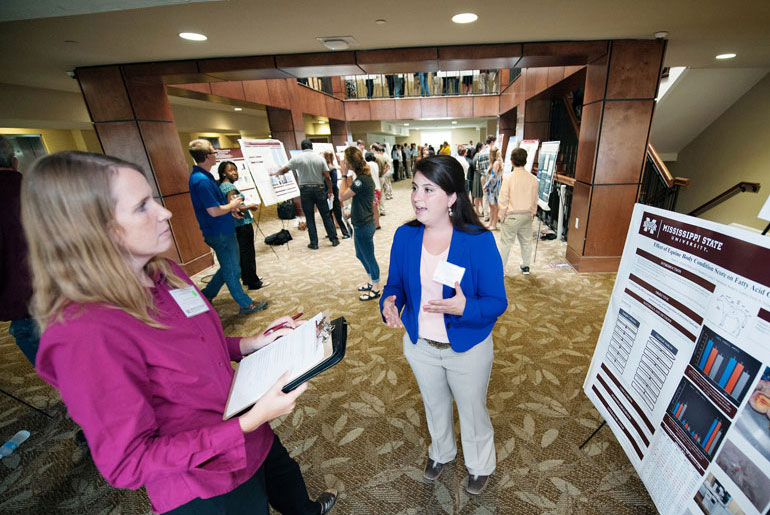 Showcasing multifaceted, innovative research currently underway at Mississippi State, 11 students recently were recognized for successful faculty-guided projects during the Summer Undergraduate Research Symposium at the university's Judy and Bobby Shackouls Honors College.
Open to MSU undergraduate students of all majors, the annual competition featured project submissions that were assigned to one of four categories, including arts and humanities, biological sciences and engineering, physical sciences and engineering, and social sciences. In recognition of the university's Carnegie Community Engagement Classification, a community engagement and service-learning track also was included for the fourth year.
A team of 24 campus faculty members representing a cross-section of academic areas served as judges for the competition.
"We view the encouragement and support of undergraduate research for all Mississippi State students to be part of our core mission," said Seth F. Oppenheimer, professor of mathematics who also serves as the honors college's director of undergraduate research.
"Undergraduate research allows students to dive deeply into important ideas and topics in a rigorous and creative manner, paving the way for future intellectual work and exploration in academics, business and life," Oppenheimer said.
Residents of Mississippi, Alabama, Florida, Georgia and Texas, this year's College of Agriculture and Life Sciences' winners include (by project type and category):
Visual Displays
ARTS AND HUMANITIES
FIRST—Jessica N. Smith of Picayune, a senior agricultural information science/agricultural communication major advised by Quisto Settle, assistant professor in the School of Human Sciences.
BIOLOGICAL SCIENCES AND ENGINEERING:
FIRST—Ciarra N. Smith of Starkville, a sophomore biochemistry major advised by Jeffrey Eells, associate professor in the College of Veterinary Medicine's Department of Basic Sciences.
SECOND—Izabella Gomes Almeida, an animal and dairy science major from the Federal University of Lavras. Participating in the Brazil Scientific Mobility Program at MSU, she was advised by Jean M.N. Feugang, MSU assistant research professor of animal and dairy sciences.
SOCIAL SCIENCES:
THIRD—Harmon Duke of Hooks, Texas, a junior landscape architecture major advised by Elizabeth Payne Tofte, assistant professor of landscape architecture.