MSU landscape architecture students help school leaders brainstorm ideas for growth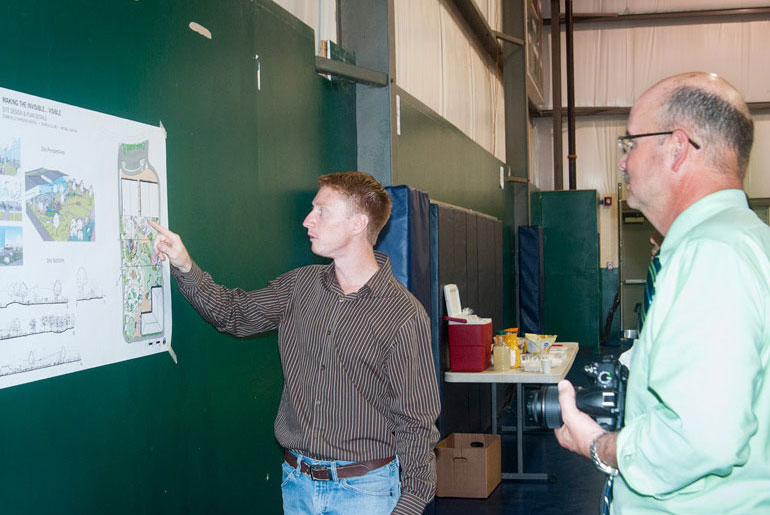 As a local school makes plans for future growth, concept designs by Mississippi State landscape architecture students are yielding a variety of options to consider.
Starkville Christian School is clearing land adjacent to their current site recently purchased to allow the K-12 school some growing space. As school leaders make plans about how that future growth may take shape, they are considering a variety of "outside the box" concepts provided by a fourth year design studio class.
Taught by Chuo Li, MSU assistant professor of landscape architecture, students were given the task of exploring how the physical environment can promote children's health. Li said her students each designed site plans for the SCS space and incorporated elements like vegetable gardens to promote healthy eating, playground spaces to promote positive social interactions, and even spaces specifically for artwork displays to stimulate creativity.
Li said the process started in the spring with a site analysis, when the MSU students were introduced to the SCS location and received feedback from SCS Principal Randy Witbeck. The design studio class then developed concept plans before incorporating feedback into their final site plans, which they shared with the school's leaders, staff and students at the end of the semester.
Abbey Wallace, a senior landscape architecture major from Madison, said the project was challenging, yet fulfilling.
"It's really difficult to design a space for all different ages," Wallace said, but she felt like she "successfully pulled all the areas together."
Wallace's site plan proposed a new façade for the school's front entrance and featured a multi-use courtyard, nature trails and a redesigned playground.
Michael Keating, a master's landscape architecture student, included 10-year, 20-year and 30-year phase-ins with his plan. "Providing a long-term vision for the school is really important," Keating said. He agreed with Wallace's assessment that designing a school building that meets the needs of various age groups is not easy.
"You want to have space that challenges and inspires everyone on this site," he said.
Witbeck said the MSU students were passionate in their approach to this service-learning and outreach project.
"They worked really hard, and they have provided a lot of ideas that will definitely help us think outside the box as we consider options for our future," Witbeck said.
Part of MSU's College of Agriculture and Life Sciences, the Department of Landscape Architecture may be found online at www.lalc.msstate.edu.