MSU-led design project selected for prominent New York exhibition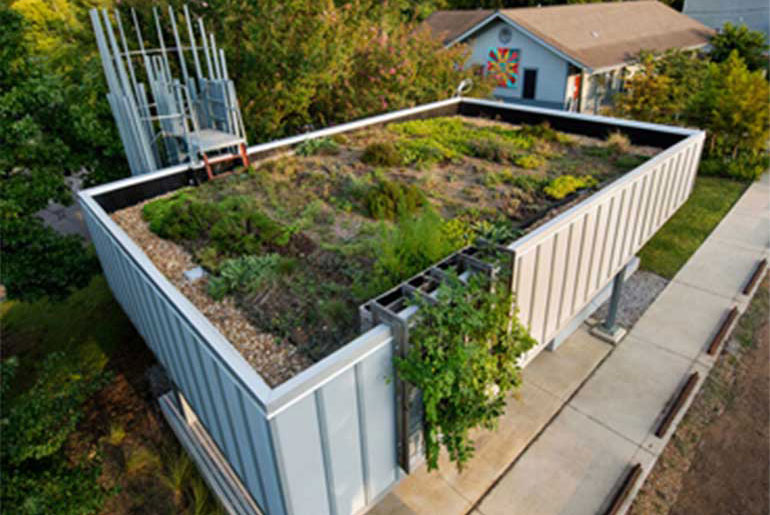 The Oktibbeha County Heritage Museum's SuperUse Pavilion, a part of the museum's rain garden program that has benefitted from the efforts of more than 100 Mississippi State undergraduate and graduate-level students, recently has been selected for exhibition at the Cooper Hewitt, Smithsonian Design Museum in New York City.
The exhibition, "By the People: Designing a Better America," will open in late September and features 60 design projects from every region of the U.S. For more, visit www.cooperhewitt.org/events/current-exhibitions/upcoming-exhibitions.
The SuperUse Pavilion's selection recognizes the efforts of MSU students studying architecture, art, building construction science, graphic design, landscape architecture and landscape contracting who designed and built the museum's new event and exhibition pavilion.
The site also will be featured in a forthcoming book published by Cooper Hewitt. Hans C. Herrmann, MSU associate professor of architecture, and Cory Gallo, MSU associate professor of landscape architecture, will represent the project team during the museum's press event this fall.
Founded in 1897, Cooper Hewitt, Smithsonian Design Museum is the only museum in the U.S. devoted exclusively to historic and contemporary design. Cooper Hewitt aims to educate, inspire and empower people through design by presenting exhibitions and educational programs and maintaining active publications.
Marked by the adaptive reuse of a former gas station pump canopy, once positioned adjacent to Stromboli's Pizzeria in downtown Starkville, the SuperUse Pavilion offers occupants a working example of how sustainable design and construction may be achieved using low-cost and readily available materials that often are regarded as waste rather than raw material.
The steel frame of the gas station canopy was reinforced and reconfigured to accommodate an extensive living roof system, made accessible by the repurposing of a circular staircase salvaged from a church slated for demolition in Memphis, Tennessee. The SuperUse Pavilion employs LED lighting technology along with high durability materials to demonstrate a low-tech response to the sustainable design demands of the future, Herrmann said.
"The exhibition is a fantastic recognition of the design and construction that has been taking place here at MSU under the guidance of both the architecture and landscape architecture programs," Herrmann said. Herrmann, Gallo and other team members expressed appreciation for the contributions of MSU students, faculty, extension services, local business supporters and community volunteers who helped make the SuperUse Pavilion and Heritage Museum Rain Garden Project possible.
As a component of the larger museum grounds improvement project, the pavilion joins additional sustainable design features, including a 700 square-foot rain garden, 200 square-foot sand filter, 1,000-gallon rainwater cistern, an American Disabilities Act-compliant museum entrance, along with more than 1,000 square feet of new landscape plantings.
The museum pavilion, rain garden and MSU faculty involved have received eight national and regional awards for teaching, collaborative practice and design. Most recently, the SuperUse Pavilion was recognized by the American Institute of Architects, Mississippi Chapter, with one of only two chapter Honor Awards granted in 2015.
The Oktibbeha County Heritage Museum is located at 206 Fellowship Street in Starkville. Museum hours are 1-4 p.m., Tuesday-Thursday, and by appointment. While admission is free, donations are encouraged.
The School of Architecture in MSU's College of Architecture, Art and Design offers the only curriculum in the state leading to a professional degree in architecture. The school offers an intense, carefully structured and wide array of courses that constitutes a solid foundation for architectural practice. For more, visit www.caad.msstate.edu/sarc.
The Department of Landscape Architecture in MSU's College of Agriculture and Life Sciences fosters the will and ability to plan, design, build and manage regenerative communities. Students explore the design process, storm water design, energy flow, native landscapes and plant materials, green infrastructure, sustainability, community planning and regional planning. For more, visit www.lalc.msstate.edu.