The women of Agricultural Engineering, Technology, and Business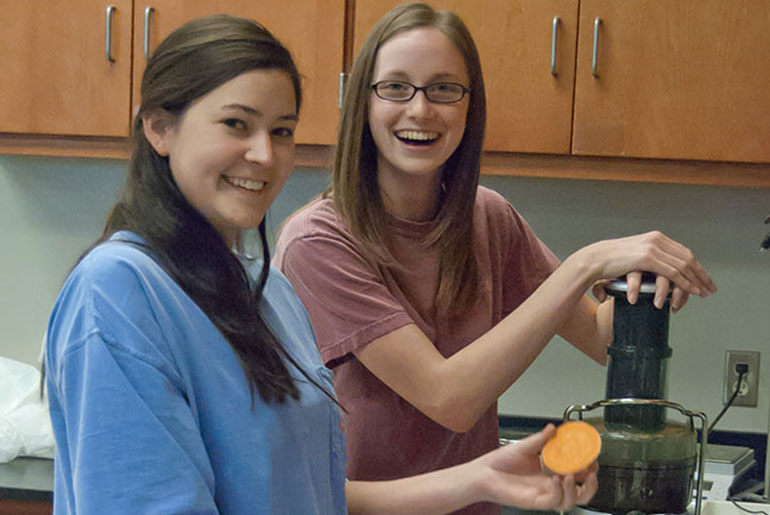 When Christina Cooper arrived at Mississippi State University to study Agricultural Engineering Technology and Business (AETB), she was one of only two girls in the major. Soon after, Amy Whiteford transferred into the major from civil engineering, adding one more girl to the mix. There are now a few more females majoring in AETB, but the vast majority of students in the major are males.
Cooper and Whiteford both graduated in May with Natural Resources and Environmental Management as their concentrations.
"Our major is very broad and very hands-on," Cooper said. "In one of our classes, we do 3-D modeling, and then build our designs in the shop. We take business classes, agriculture mechanics, soil classes so it's a little of everything."
Agricultural Engineering Technology and Business has four concentrations that students choose when entering the major. In addition to Natural Resources and Environmental Management, the other concentrations are Precision Agriculture, Enterprise Management, and Surveying and Geomatics.
"In our concentration, we take more classes in things like plant and soil sciences," Whiteford said. "Precision Agriculture majors have to take more mechanical classes; Enterprise Management students take a lot of business and accounting classes."
Cooper, a native of Arab, Alabama, chose Mississippi State due in part to the Academic Common Market.
"I was considering civil engineering, but once I learned about this major, I knew it felt right," she said. "When my out-of-state tuition was waived by the Academic Common Market, it was actually less expensive for me to attend MSU than Auburn."
The Academic Common Market is a program of the Southern Regional Education Board that waives out-of-state tuition for degree programs not available in the student's home state. Whiteford came to Starkville from Houston, Texas, simply because she did't want to go to school in her home state.
"Civil engineering was too big of a department for me," she said. "I was more interested in the agricultural side of civil engineering, so when I found AETB, I knew I would enjoy it."
Cooper and Whiteford both participate in research conducted by the Department of Agricultural and Biological Engineering.
"I count chicks as part of a heat lamp preference study," Cooper said. "The research is studying where baby chickens want to be in relation to a heat lamp during the first couple days after birth."
Whiteford photographs sweet potatoes as part of another AETB research project.
"I take pictures of each side of every sweet potato," she said. "I load the pictures to the computer and my boss and colleagues analyze the photographs. The goal is to see whether or not the source of the sweet potatoes can be identified based on what the sweet potatoes look like."
Research and row crops are both girls' favorite parts of the major.
Both girls are interested in going into the agricultural industry, working in jobs like crop consultant or sales representative.
Cooper said she could't be happier that she chose to attend Mississippi State.
"Our major is really a family," she said. "There are only about 100 students in our major, so we know each other really well."