MSU Earth Day observance to debut new bike repair stations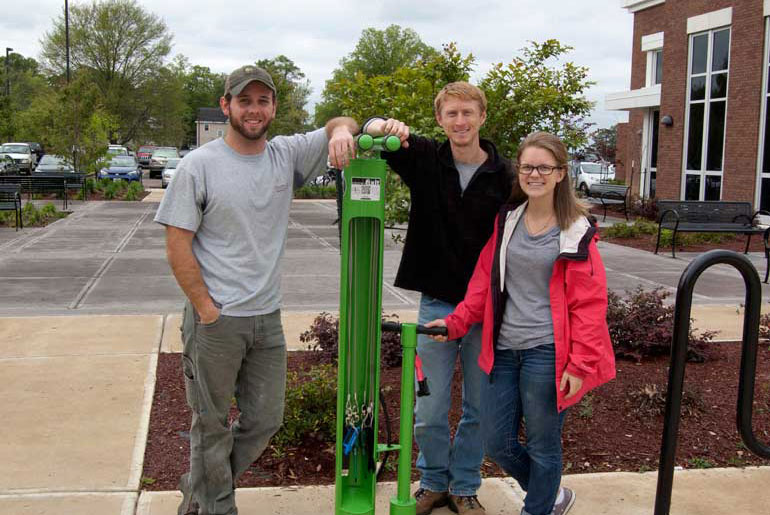 As part of their Friday [April 22] observance of 2016 National Earth Day, a group of Mississippi State students will unveil four new campus bicycle-repair stations.
With support provided through the university's Green Fund program, members of Students for a Sustainable Campus and some landscape architecture majors recently equipped each of the locations with an air pump and assorted wrenches and other tools.
Also Friday, SSC holds a 10 a.m-2 p.m. Earth Day Fair on the Colvard Union Plaza. As part of the event, a repair station will be displayed as members demonstrate its use.
Junior Abbey K. Wallace, a landscape architecture major from Madison, developed the project with three classmates: senior landscape contracting major Preston S. Sorrell of Chelsea, Alabama; and LA graduate students Michael P. Keating and Amer Mahadin of Starkville.
Their proposal had been submitted in competition sponsored by Green Fund, the environmental sustainability initiative of MSU's facilities management department. For more, visit www.fm.msstate.edu/news/green-fund.
David Hoffman, SSC faculty adviser, said the Green Fund was created to raise funds for student-organized projects like this. "The vision of the Green Fund is to have students work across colleges and with faculty on projects that help improve our sustainability," the associate professor of cultural anthropology explained.
Senior Anna Claire Rogers of Hunstville, Alabama, is an agronomy major currently serving as SSC president. The organization received proposals ranging from composting projects to creation of a developed area to accommodate beach volleyball, she said.
"We felt like the bicycle repair stations would serve the most people," Rogers said in noting that "the ones we already have on campus are well worn."
Joining those already in place near campus residence halls, the new stations will be located adjacent to the Fresh Food Company dining facility, Colvard Union, and Sanderson and Hunter Henry centers.
According to Hoffman, existing stations "aren't in areas where there is a lot of public bicycling right now, but breakdowns on bikes happen all the time, all over campus."
Wallace said her team's proposal developed from a class presentation given last semester by a member of the campus planning office.
"The planner talked to us about the future of campus; what it would look like, what roads would be shut off, what would turn into pedestrian corridors and where bike lanes will be installed," Wallace said. Those anticipated landscaping changes and their potential effects on student parking "made us interested in the repair stations," she said.
Observing how "bicycling is one huge way students can contribute to sustainability," Hoffman said he feels the news stations will help increase bicycling's visibility and, in the process, "help contribute to a healthy Mississippi."
Cory Gallo, landscape architecture associate professor and adviser for the project's LA team, said it is "important for students to have these real-world experiences outside of the classroom and this project has been a great opportunity for the students involved."
Wallace agreed. Design projects created for class are one thing, but "doing projects for real clients is more fun" and "I feel like I've learned the most during projects like this."
Wallace also said she considers passions for sustainability and the environment to be essential elements of a mindset that all students in the academic major should have.
"Landscape architecture brings a lot of fields together, so it can be a great fit for a lot of different students," she said. "There's a lot of art and engineering, but there's also sociology; understanding people and the ways they behave."
For complete information on the landscape architecture and landscape contracting academic programs in MSU's College of Agriculture and Life Sciences, see www.lalc.msstate.edu.