CALS students win top prizes at biology symposium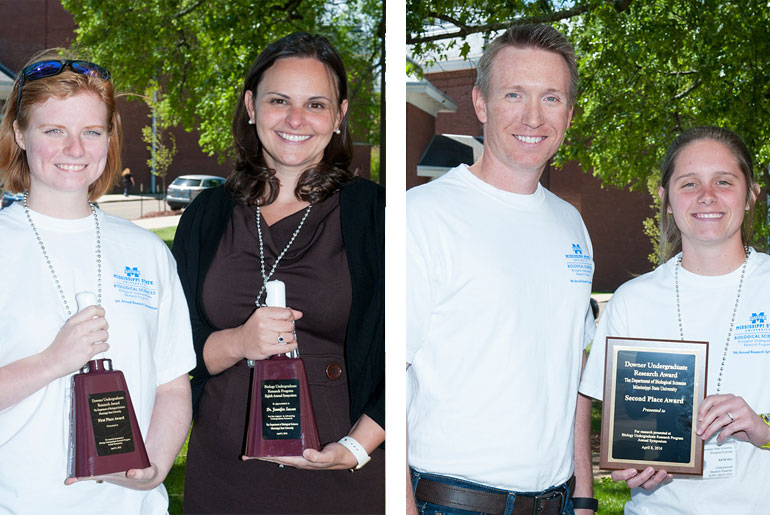 Two College of Agriculture and Life Sciences students received awards for faculty-guided research conducted in the fall 2015 and spring 2016 semesters at the ninth annual Undergraduate Research Program Symposium this week.
Nearly 25 undergraduates showcased their successful research efforts. The symposium was sponsored by the university's biological sciences department.
First-, second- and third-place winners each received Downer Undergraduate Research Awards that honor Professor Emeritus Donald N. Downer of Starkville, the longtime department head. All seniors, the honorees include:
FIRST-Kellie A. Mitchell, a biochemistry/pre-medicine major from Chelsea, Alabama, whose project, "Altered clock gene oscillations in cardiac fibroblasts from obesity and diabetic mice," was completed under the guidance of assistant professors James A. Stewart Jr. of the biological sciences department and Yuhua Farnell of the biochemistry, molecular biology, entomology and plant pathology department.
SECOND-Kaitlyn M. "Katie" Hill, a biochemistry major from Southaven, whose project, "Puma regulates survival of innate immune cells in response to Streptococcus pneumoniae," was completed under the guidance of Assistant Professor Justin Thornton of the biological sciences department.
Three students in biological engineering, biological sciences, and microbiology, respectively, tied for third place.
Each winner received an engraved plaque and cash award. As the first-place recipient, Mitchell also was presented with an engraved MSU cowbell.
Jennifer Sasser, an assistant professor at the University of Mississippi Medical Center in Jackson, served as keynote speaker for the symposium in Harned Hall. Her research interests include determining the factors that lead to kidney disease during hypertension and identifying new therapeutic targets.
Biochemistry, Molecular Biology, Entomology and Plant Pathology