Our People: Emily Stewart Finley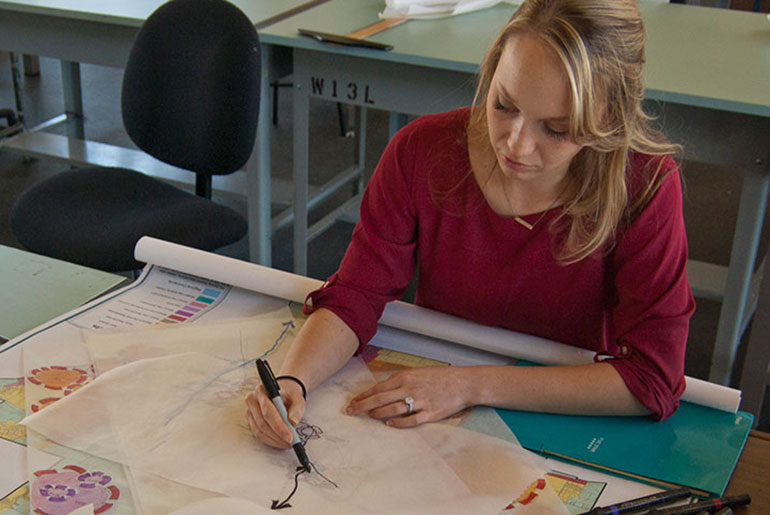 "I chose landscape architecture when I was 10. We had a landscape architect working on our yard and she was the coolest person. I knew that's what I wanted to do when I grew up."
Emily Stewart Finley, a senior, has been a Mississippi State bulldog since she was young. Growing up in Tupelo, Finley had family in Starkville and spent many weekends watching football and basketball games on campus.
"My grandparents wouldn't have let me go to school anywhere else if I'd wanted to," Finley said. "But that's okay because I didn't want to. The people are what really make Mississippi State special."
Mississippi Stat's Landscape Architecture department strives to give students the ability to plan, design, build and manage regenerative communities—connecting art, culture and the environment to create places that people love.
"When I was a kid, I loved that in landscape architecture, I'd be outdoors working with plants, while still having that emphasis on organization and management," Finley said. "Now that I've nearly completed my degree, I love that I have the huge responsibility and honor of creating spaces that encourage people to be outside and be active. The combination and blending of creating spaces that are beautiful, functional and sustainable is what I love."
Landscape architecture students complete several large projects while obtaining their degree, at least one of which will be implemented by the client upon completion. Finley's favorite project was one she did for her Design IV class. Each student in the class designed a community center development for a Vietnamese neighborhood in New Orleans. The first step of any of Finley's projects is research.
"The camp was founded because a lot of Vietnamese refugees were coming to the United States and settling in New Orleans," she said. "So the neighborhood ended up being about 60 percent Vietnamese, then equal populations of African American, white and Spanish. It was an interesting blend of cultures coming together."
The community center was located on three acres of land. Finle's vision for the land was inspired by Vietnamese farmland—because Vietnam is very mountainous, plots for agriculture were cut into the sides of mountains. In addition to these farmlands, Finley created wetlands in the space to thwart the natural disasters that are prevalent in New Orleans.
"We take into consideration things like climate, hydrology, where the sun is and where the wind is," Finley said. "We analyze that before beginning our preliminary design. In an area like New Orleans where there is a lot of rain, I needed to be able to remediate the water coming onto the site."
Finley is particularly interested in regenerative landscape— landscapes that heal themselves after natural disasters or anything else that is detrimental to the ecological system. She explained that these landscapes focus on more than just the plants in an area — the animals, insects and other living elements of the area are also of critical importance.
After her May graduation, Finley hopes to find a job in Fayetteville, Arkansas that will let her work toward a career in sustainable and regenerative landscapes.
"I can't imagine fitting into a field better," Finley said. "I'm so excited to graduate and start my career."