Providing a Sense of Place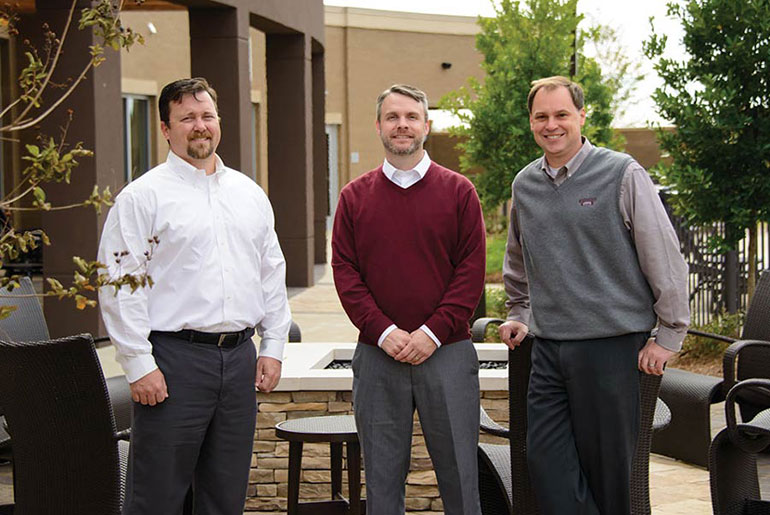 Nearly twenty years ago, three landscape architecture students got to know each other in their design-build class at Mississippi State. They joked how they should go into business together. That joke developed into an idea that turned into an eventual business venture. Through smart strategy, hard work, and dedication, the business celebrates its tenth anniversary this year.
Chad Watkins, Jared Acy, and Troy Strunk, landscape architecture alumni who attended MSU from 1996-2001, are the three principals of WAS Design. The firm's corporate headquarters are situated in Foley, Alabama with satellite offices in Mobile, Alabama and Jackson, Mississippi.
After graduation and a few years in the workforce, Watkins and Acy took jobs in the same small firm in Gulf Shores. Strunk was working for a firm in Pennsylvania.
"We started talking and decided we could go out on our own," Strunk said. "I moved down from Pennsylvania. We, along with our families, took a leap of faith and trusted we could get enough work. It started out with just the three of us in a small rented space in Gulf Shores."
The firm now consists of the three principals, three more licensed landscape architects, two designers, a draftsman, a graphic designer, and an office manager. WAS Design offers three primary services: traditional landscape architectural design, community and land planning consultation and design, and marketing services including three-dimensional perspectives and site plans. They have a broad client base which includes industrial, governmental, institutional, and hospitality sectors. They also work with private developers and public planners on residential and community design.