MSU students and faculty honored at Beltwide Cotton Conference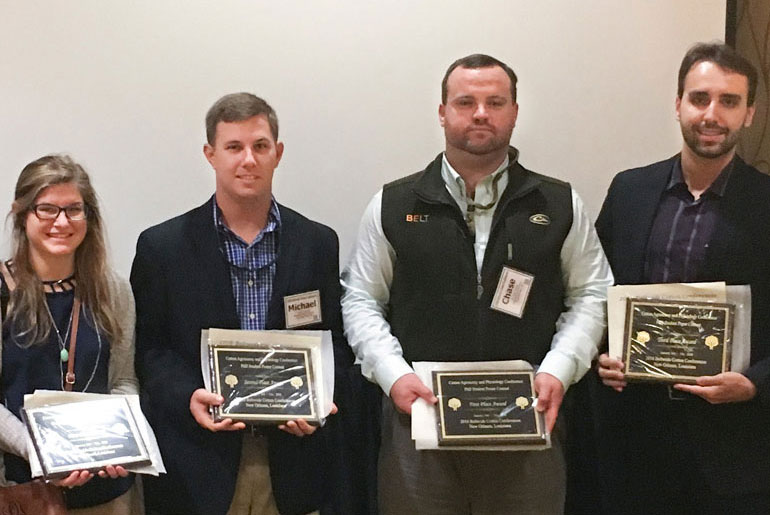 Four Mississippi State students and a faculty member are recent award winners at the 2016 Beltwide Cotton Conference.
All are affiliated with the agronomy program of the university's plant and soil sciences department.
Regarded to be among the best of its kind in the world and held in New Orleans, Louisiana, the competition was part of a major event coordinated by the National Cotton Council that involved 11 concurrent technical conferences.
In the visual display category, MSU student winners included:
Senior Savana S. Davis of Pungoteague, Virginia, first in the undergraduate division;
Doctoral candidate Chase A. Samples of Starkville, first in the agronomy and physiology section of the graduate division; and
Doctoral candidate Michael T. Plumblee, second in the agronomy and physiology section of the graduate division.
In the graduate-level oral presentation competition, doctoral student Lucas X. Franca of Starkville placed third.
Darrin Dodds, adviser for all four, received the conference's Dr. J. Tom Cothren Outstanding Young Physiologist Award. Indiana-based Dow AgroSciences sponsors the Cothern Award as a memorial to a well-known Texas A&M professor and physiologist.
Dodds, an MSU doctoral graduate who now is an associate extension and research professor, said each member of his student team "is exemplary and has what it takes to succeed."
Samples is the only one among the four with an earlier agronomy degree completed at the university. With a master's awarded in 2014, his doctoral research involves the study of herbicide-drift control aids in cotton and soybeans that is sponsored by the Soybean Promotion Board and Cotton Inc.
"This is Chase's second year placing in this competition, and is only one of several awards he has won in recent years," Dodds noted.
He also praised Davis who, he said, "took her project and made it her own." Davis currently is considering pursuit of a graduate degree in the department under a dual enrollment program.
Davis and Plumblee both are conducting irrigation-related research. While Davis is studying furrow irrigation options on silt loam soil on a producer's cotton acreage in the Delta, Plumblee is evaluating furrow irrigation as it relates to cotton-growth stages at the R.R. Foil Plant Science Research Center at the Starkville campus.
Franca, who is evaluating the performance of harvest-aid programs in different cotton cultivars, currently holds the College of Agriculture and Life Sciences' Will D. Carpenter Distinguished Field Scientist Graduate Assistantship.
Mike Phillips, plant and soil sciences department head, said the conference awards illustrate how MSU and its agricultural research units continue to be national leaders in cotton research.
Phillips also said Dodds' expertise has become widely acknowledged throughout higher education and the cotton industry.
"Dr. Dodds knows the physiology of cotton inside and out; he is an innovator and a collaborator that is respected throughout the Mid-South," Phillips said, observing that the 2016 Cothren Award "pays tribute to his talent as both an educator and researcher."
Plant and soil sciences is a comprehensive, multidisciplinary department with graduate programs in agronomy, horticulture and weed science. For more information, visit www.pss.msstate.edu.