MSU students awarded precision agriculture scholarship
Author: Sarah Buckleitner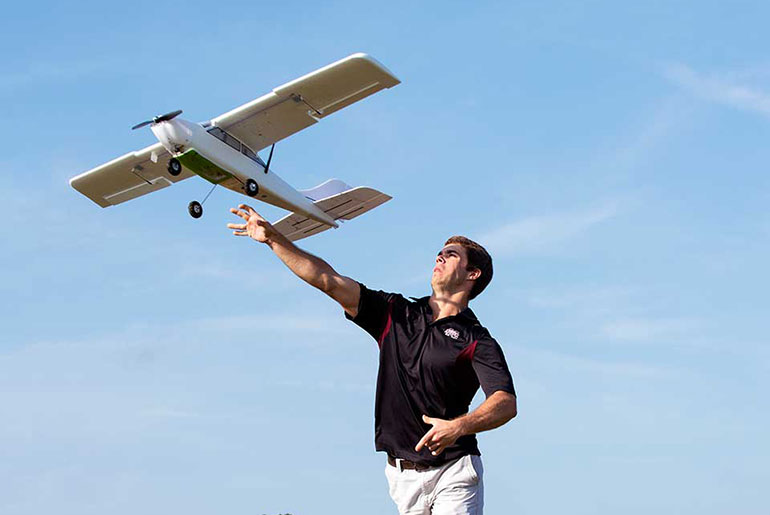 Four students in Mississippi State Universityís College of Agriculture and Life Sciences are receiving precision agriculture scholarships this year, and applications are being accepted through Monday [Feb. 15] for 2016-2017 scholarships.
Precision agriculture is a method that utilizes cutting-edge technology to pinpoint what a field needs to produce the largest amount of food and fiber. Through the use of sensors that detect differences in soil type, moisture and other environmental conditions, scientists are discovering new ways to provide farmers with tools to maximize yields.
Funded by Monsanto Company, the scholarships help students further their studies in precision agriculture as it applies to their respective academic major. In turn, the work they do is expected to further the field of precision agriculture.
Current recipients include (by hometown):
GREENVILLE—Jeffrey Mansour, a masterís student in plant pathology.
NEWBERN, Tenn.—John Murray, a freshman agronomy major with an integrated crop management concentration.
SAULSBURY, Tenn.—Jake Hall, a freshman agricultural engineering technology and business major.
STURGIS—Evan Gregory, a senior agribusiness major.
Mississippi State is a leader in precision agriculture technology. Last year, the Federal Aviation Administration selected an MSU-led team to operate the new National Center of Excellence for Unmanned Aircraft Systems. Additionally, the College of Agriculture and Life Sciences has instituted a precision agriculture certificate program and has hired faculty who are experts in related fields.
Mansour said he wants to help all growers manage their crops in ways that are cost efficient and provide the greatest benefit for disease management.
"Across the world, we suffer an estimated $250 billion deficit due to plant disease. I know that scientific advancements in the field of plant pathology will help reduce that deficit, and I want to help growers in any way that I can," he said.
With precision agriculture, Mansour can monitor every aspect of his project, which deals with assessing the physiological impacts of foliar fungicide phytotoxicity within the Mississippi soybean production system.
"I can control how chemicals are applied to ensure full coverage of plants. I can also record each detail and reduce the extraneous variables involved in my study," he added.
"With the help of this scholarship, I can alleviate financial difficulties. It provides some of the resources I need to travel to see other people's research, attend conferences, and also will help me set aside time to get my doctoral degree," Mansour said.
Hall also spoke to the financial benefits of receiving the scholarship.
"Coming from out-of-state, and also having a sister in college, puts a huge financial strain on my parents. This scholarship helps to relieve that strain, and allows me to receive my education," he said.
Agriculture runs in the Hall family, and Hall attributes his passion for production to his father.
"My dad is the reason for my choice in career because of the love, experience and curiosity he has given me. I hope that after I graduate, I will be able to develop agricultural products with Monsanto."
Scott Willard, MSU associate dean of the College of Agriculture and Life Sciences, said precision agriculture provides greater efficiencies for producers.
"They don't have to apply chemicals—fertilizers, herbicides, pesticides—to areas of the field where it's not needed, and they're able to apply only the exact amount needed in areas where it would be beneficial," Willard said. "This allows for better environmental stewardship in terms of not overusing chemicals, and it saves producers money. It's good for everybody."
While the technology to carry out precision agriculture exists today, scientists still are examining ways to create systems that read field conditions, and then report to the farmer exactly what each area needs to optimize production.
"The question is in how we harness that technology. We have to collect the huge amounts of data from the sensors, analyze it, and create a formula for producers that dictates what products they should use in that specific setting," Willard said.
For more information on pursuing a major related to precision agriculture or applying for the scholarship, visit www.cals.msstate.edu.