MSU landscape architecture students win national design challenge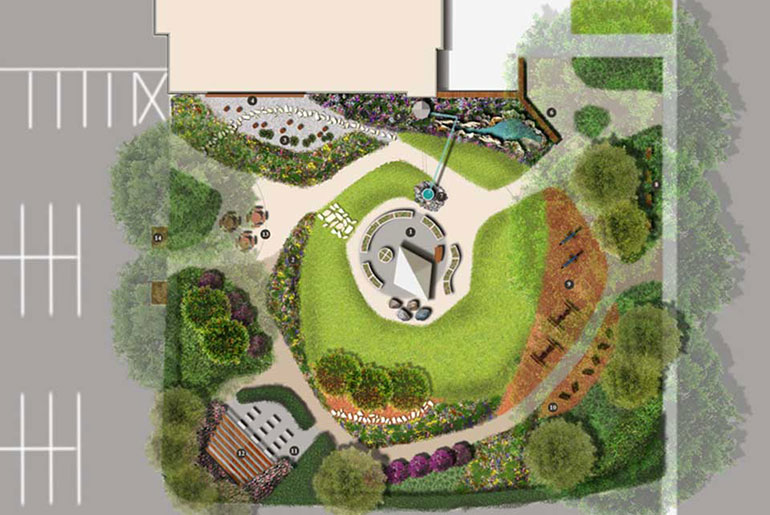 Implementation has begun on the initial phase of the 2015-16 Come Alive Outside Design Challenge winning design created by Mississippi State undergraduate and graduate landscape architecture students.
Now in its third year, the competition challenged MSU students, along with teams from Auburn University, Hinds Community College and Louisiana State University, to design an outdoor spot that would help the Memphis Catholic Middle School and High School better utilize existing greenspace.
The competition was organized and executed in partnership with nonprofits Come Alive Outside of Asheville, North Carolina, and The Kitchen Community of Boulder, Colorado, along with Memphis-based landscape design/build firm Michael Hatcher and Associates.
Hatcher, a 2008 MSU banking and finance graduate, already had been working with The Kitchen Community to design and build school and community gardens throughout the Memphis area.
His firm, which began implementing the first phase of the winning design last December, funded the MSU and other design challenge teams' trips to Memphis last October. There, they had the opportunity to meet with and seek inspiration from landscape professionals and Memphis Catholic Middle School and High School students and teachers.
After completing a site and program analysis, concept development and review of the budget and regulatory conditions, each team was given a $10,000 budget and three-week deadline to turn their concepts into concrete designs.
Along with integrating the creative input of Memphis Catholic's students and teachers, the teams' designs had to incorporate a Certified Wildlife Habitat and address the effective utilization and management of rainwater, all in a manner that would engage one's five senses.
Ultimately, the MSU team created a concept called The Cellular Learning Garden. Based on the idea of the cell as the basic building block of life, the plan integrated educational, physical and spiritual components.
According to the team's project narrative, the butterfly and wildflower garden fulfilled the Certified Wildlife Habitat requirement. The design also featured a rain garden with a cistern that provided water for a pond, as well as an art wall that displayed the movement of water and served as a gathering space for exploring the butterfly garden and a vertical herb wall.
Additionally, team members reimagined an existing Marian Shrine Garden Cathedral onsite by restoring and reusing existing benches and building a wooden trellis to formalize the sanctuary into a more meditative, peaceful space.
A video of the MSU student team's winning design may be found online at https://www.youtube.com/watch?v=TXrxuFzIY5E.
Cory Gallo, associate professor of landscape architecture, served as the faculty adviser for the MSU team comprised of graduate students Opeyemi T. Bakare of Nigeria; Michael P. Keating of Starkville; Yazan Mahadin of Jordan; and Ying Qin of China.
Gallo said three undergraduate students also took advantage of this learning opportunity by voluntarily assisting with the project in their spare time. They included Justin J. Gandy of Starkville; Elizabeth L. "Lis" Robison of West Point, also pursuing a bachelorís in landscape contracting; and Abbey K. Wallace of Madison.
"The MSU landscape architecture program strives to be nationally ranked, and this project helps spread the school's recognition for producing talented and thoughtful students," Gallo said. "I think this winning project shows that our students have a good grasp of design issues and are able to clearly express their ideas."
Sadik Artunc, professor and head of MSU's Department of Landscape Architecture, said the project fit perfectly with his department's mission to "foster the will and ability to plan, design, build and manage regenerative communities."
"As a result of this design, the middle and high school students will be managing a regenerative community that has been planned, designed and built around them," Artunc said. "The spiritual and educational components that inspire and define their community will be reflected in the physical space."
For more information about the 2015-16 Come Alive Outside Design Challenge, visit https://comealiveoutside.com/design-challenge.
Part of MSU's College of Agriculture and Life Sciences, the Department of Landscape Architecture may be found online at www.lalc.msstate.edu.