Leake Co. senior at MSU receives national research recognition
Author: Sarah Buckleitner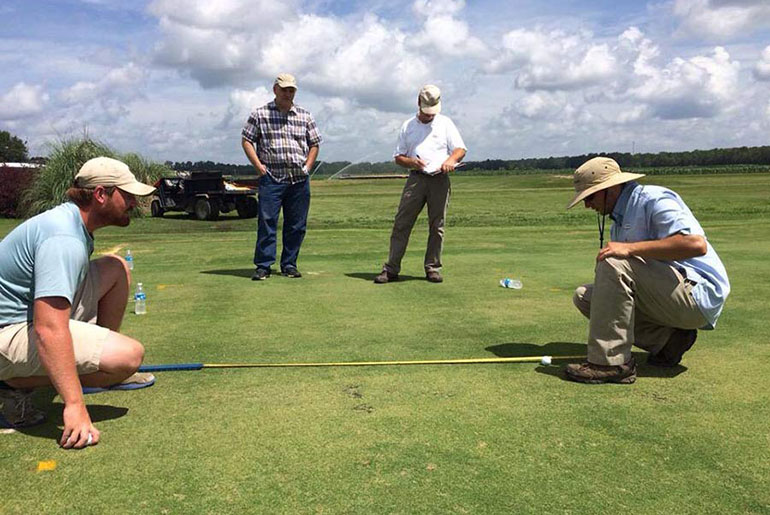 A high-achieving agronomy major at Mississippi State is a top finisher in recent national student competition.
Senior Matthew A. Tucker of Carthage took second-place honors in oral presentation during the National Student Research Symposium Contest. The event in Minneapolis, Minnesota, was part of the joint annual conference of the American Society of Agronomy, Crop Science Society of America and Soil Science Society of America.
Tucker, a plant and soil science major concentrating in golf and sports turf management, is a President's List Scholar at the university, as well as a member of the Phi Kappa Phi national honor society chapter. He is a 2014 graduate of East Central Community College.
In the contest, he was among 14 student representatives of 13 U.S. institutions of higher learning. Each was given approximately 10 minutes to make presentations on their research projects, followed by nearly 20 minutes answering questions from the judges and audience members.
In addition to speaking abilities, scoring was based on a project's research rigor and significance in the scientific world.
Tucker's work involved an examination of screening methods for water stress in seedlings and identification of drought-tolerant lines of tall fescue and bermudagrass. Germination is a crucial point in the lifetime of a plant and, by finding ways to test for water stress, his investigation may help plant breeders as they work to produce improved varieties of grasses.
Assistant professor Christian Baldwin, Tucker's faculty adviser, described the Leake Countian as "an incredible presenter" who is both "well-spoken and knows what he's talking about."
"The first time I heard him speak, I was struck by how engaging he was and by how he clearly grasped the material," Baldwin added.
A turfgrass management specialist and MSU faculty member since 2012, Baldwin observed that "the biggest thing that sets Matthew apart from other students is his commitment to understanding a topic from beginning to end. With this project, he was involved in everything; he did the work, analyzed the data and put together the presentation."
Over the decades, the golf and sports turf management program of the plant and soil sciences department in MSU's College of Agriculture and Life Sciences has earned international recognition for groundbreaking turfgrass research in pathology, pest management and breeding. For more about the department, visit www.pss.msstate.edu.