Ready, set, go! MSU grad students test communication skills in 3MT® competition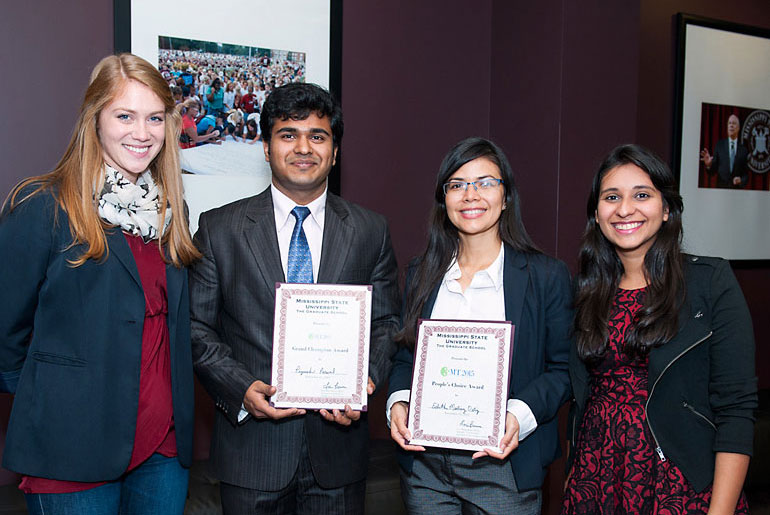 An 80,000-word thesis would take nine hours to present. Nearly 60 Mississippi State graduate students had less than three minutes to convey their months or years of complex research during the university's recent third annual Three Minute Thesis competition. College of Agriculture and Life Sciences graduate students made up half of the winners during the competition.
Sponsored by the university's Office of the Graduate School, the 3MT competition is open to all graduate students in good academic standing. Students may compete in arts and humanities; life and biomedical sciences and engineering; physical, mathematical, computational sciences and engineering; or social and behavioral sciences.
"I think having 180 seconds to tell people about what you're doing in your research is a great concept, and I commend all of you for participating in this competition," said MSU Provost and Executive Vice President Jerry Gilbert.
According to university officials, the quality of the presentations left the judging panel with the difficult task of selecting a single Grand Champion Runner Up. Ultimately, the panel decided to designate two co-recipients of the Grand Champion Runner-Up Award.
Each receiving a $750 award were Abbey E. Wilson, a master's student in agricultural and life sciences/animal physiology with a talk titled "What's that Perfume? Sniffing out the Science of Pandas—Chemical Communication" and Dafne Alves Oliveira, a molecular biology doctoral student who spoke about "Fielding a Team to Defeat Aflatoxin in Corn."
College of Agriculture and life Sciences finalists received $250 awards and included:
Timothy "T.J." Bradford, a doctoral student in agricultural science/agricultural and extension education, for his research talk titled "Assessing Agricultural Knowledge via Experiential Learning." He also holds a bachelor's in agronomy and master's in agriculture from MSU.
Chelsie H. Darnell, a master's student in agricultural life sciences/entomology, for her research talk titled "Insecticide Resistance of Tobacco Thrips in Cotton."