MSU team helps improve local community garden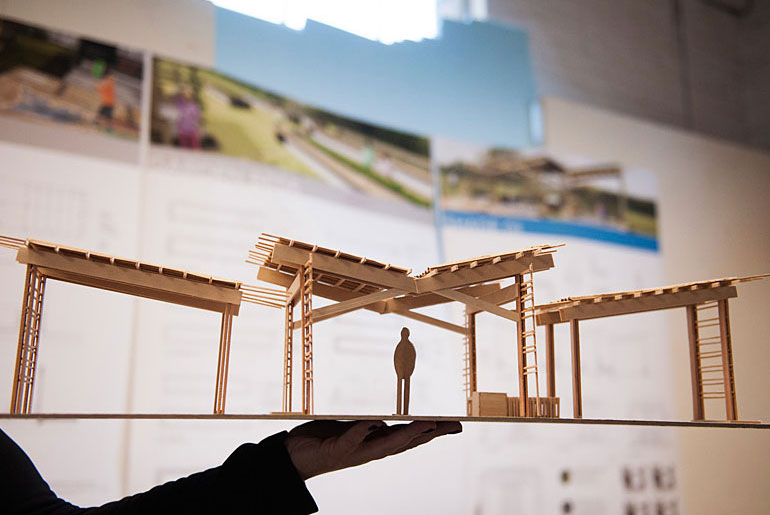 Several Mississippi State groups are working with the Starkville Boys and Girls Club to help promote long-term healthy eating habits among local youths.
First, university students in a fourth-year School of Architecture design studio are making plans to transform the club's community garden into a larger, more accessible and efficient horticultural space.
The class is taught by assistant professor Alexis Gregory, who said the team soon will begin construction of six raised garden beds, two shaded pavilions and a storage space for tools. An Americans with Disabilities Act-accessible ramp leading from the club's main building on Lynn Lane to the back garden area also will be built.
Gregory estimated that the project should be complete by mid-spring, weather permitting.
The architecture majors are joining with others on campus to organize a sustainable program in which club members learn to maintain the garden and take home vegetables they grow.
The larger effort involves the MSU Horticulture Club, assistant professor Brittney Oliver of the College of Agriculture and Life Sciences' food science, nutrition and health promotion department and assistant professor Kenneth Anthony of the College of Educationís curriculum, instruction and special education department.
"We're wanting to educate children on healthy eating and food sustainability," Gregory explained. "Hopefully, through this program, these ideas will transfer to their parents."
After determining total project costs at approximately $10,000, Gregory said the team opened a GoFundMe account. Members also are soliciting material donations from local businesses, she added.
A mini-grant provided by MSU's Center for the Advancement of Service-Learning Excellence is enabling senior Lorianna A. Livingston of Columbus, a CASLE Service-Learning Scholar, to provide graphic design services.
An art/graphic design major, Livingston said that in addition to finding new ways for incorporating various building materials into her creations, the project has provided many positive interactions with a diverse group of clients and project team members.
"It is extremely rewarding to work collaboratively with groups of students and faculty from all over campus to serve our community," Livingston said. "The faculty and staff at the Boys and Girls Club have been very appreciative of our efforts, and we are so excited to be able to complete this project for them."
Once the new beds are built and ready for planting, students in the MSU Horticulture Club will supply and recommend plant materials, conduct educational sessions on gardening preparation and maintenance, and help guide Boys and Girls Club members through the planting process.
Richard Harkess, horticulture club faculty adviser, said the highly coordinated approach that all involved have brought to the project ultimately will help make a positive difference in the lives of many Starkville families.
"When children pull radishes out of the ground that they grew from seeds, they are more likely to take a bite of one than they would be if their mom brought it home from the grocery store and put it on their plate," the professor of plant and soil sciences observed. "This will help give these kids a better idea of where their food comes from."
According to Gregory, a Healthy Hometown grant in 2011 funded the club's first community garden project, with volunteers from the community and MSU helping maintain it since that time.
Healthy Hometown grants are provided by the Jackson-based Blue Cross/Blue Shield of Mississippi Foundation.
Boys and Girls Club director Jeffrey Johnson said the current construction project, when combined with curriculum and support provided by the Mississippi State academic partnership, should help the organization's young members become even more involved.
"We'll have programs that will promote health and nutrition, boost the kids' self-confidence, and also this garden is going to look great," Johnson said. "This is a great example of how the club can branch out to better connect with Starkville and MSU."