First MSU horse judging team places in national contest
Author: Keri Collins Lewis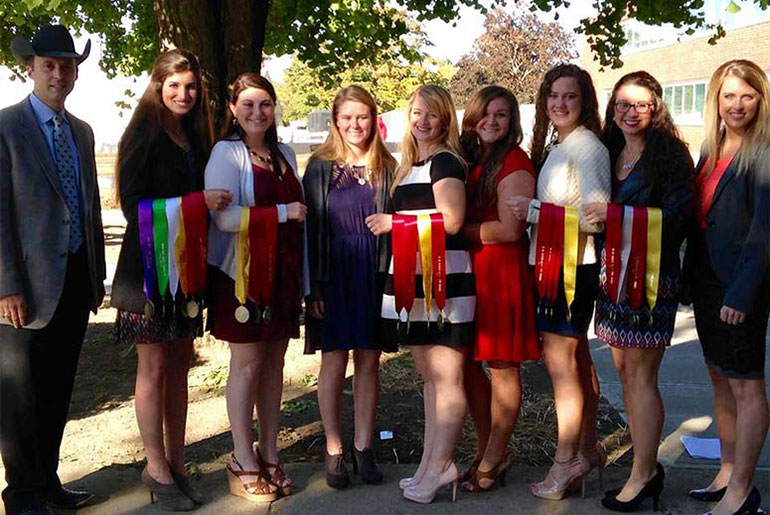 A new Mississippi State University team scored a major victory in its first season of competition.
The MSU Horse Judging Team was named the Reserve Grand Champion Team at the All American Quarter Horse Congress in Columbus, Ohio, the largest horse show in the world.
Clay Cavinder, equine specialist with the MSU Extension Service and associate professor in the MSU Department of Animal and Dairy Sciences, coached the team for the competition, which involved judging 12 classes of horses, with four horses in each class.
Competition officials and students competitors independently evaluated and scored each class of horses based on a set of ideal characteristics. Competitors also stated the reasons for the scores they assigned to each horse. Based on how closely their scores aligned with the officials' scores and how well they demonstrated sound logic and reasoning, officials ranked each of the 20 competing collegiate teams.
"One of the big draws for me in coming to Mississippi State was the lack of a collegiate horse judging team," Cavinder said. "It was also a big draw for the students, to build something from the ground up, to do something that's never been done. It was our first national competition, and we won second place. I'm really proud of our team."
MSU Collegiate Horse Judging Team members from Mississippi include Hannah Collins, a senior from Pontotoc; Hannah Miller, a junior from Starkville; Ashley Palmer, a senior from Jackson; and Carlee West, a senior from Brooklyn. Other team members are MaeLena Apperson, a sophomore from Mocksville, North Carolina; Ashley Greene, a senior from Jacksonville, Florida; and Samantha Miller, a junior from Birmingham, Alabama. Graduate student Emily Ferjak of Killingsworth, Connecticut, serves as the team's assistant coach.
The team placed second in halter, third in performance and second in stating reasons orally to achieve their overall second-place honor. Individual honors went to Hannah Miller for fourth highest individual score and Hannah Collins for ninth highest individual score.