MSU student receiving national landscape architecture award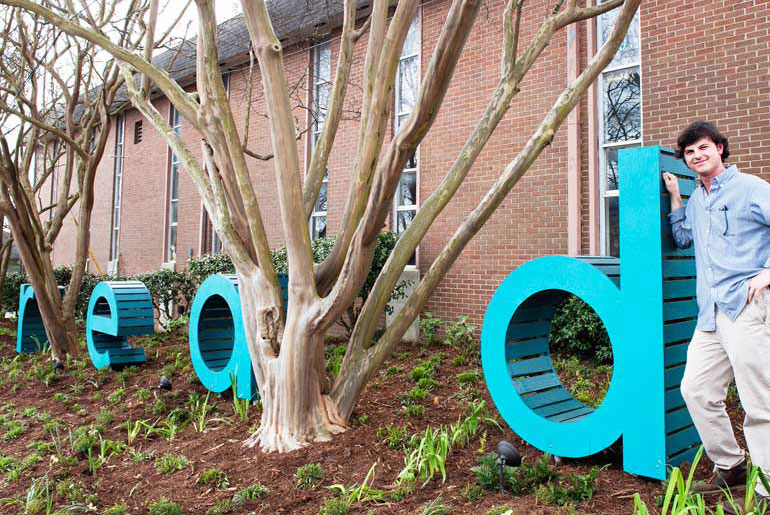 A recent Mississippi State graduate from Madison is among a select group being honored with a major international design honor.
Next month, Travis R. Crabtree travels to Chicago, Illinois, to accept an American Society of Landscape Architects community service award.
A May graduate of the university, he was among five landscape architecture majors that designed, constructed and installed four wooden letters spelling "read" at the Starkville Public Library. For the sculpture situated in a 20-by-100-foot garden along the building's east side, they also selected low-maintenance foliage to accent the letters and complement the existing plant palette, as well as low-voltage LED fixtures to illuminate the letters at night.
For that achievement, he is among nearly two dozen students selected recently for 2016 ASLA recognitions. Nearly 330 students representing more than 80 schools around the world were considered for this year's awards.
In addition to Crabtree's ASLA honor, the MSU "Read" project is being featured in the October issue of Landscape Architecture magazine.
Cory Gallo, an associate professor of landscape architecture, was project adviser.
"The sculpture transformed the image and identity of our town's public library," Gallo said. "It also contributed to the burgeoning art scene in downtown and created a playful backdrop for the children's reading room."
Explaining why an action verb was selected as the sculpture's focal point, Gallo said, "We wanted the piece to express the city's commitment to literacy for children and the community in a playful way."
He added, "This idea can be represented by a passage from a poem by Roald Dahl, 'So please, oh PLEASE, we beg, we pray, go throw your TV set away, and in its place you can install, a lovely bookshelf on the wall.'"
Dahl's poem is displayed on a lamppost plaque next to the sculpture that describes the piece.
Library director Ginny Holtcamp said the new sculpture "significantly identifies our building and its purpose in our community. We are very proud of it."
Crabtree now is enrolled in the urban design master's degree program at the University of Michigan. He credits the MSU project for providing valuable lessons about how landscape architecture can contribute to the broader community.
"Landscape architecture has a lot to do with community involvement and interaction," Crabtree said. "My graduate degree focuses on that aspect; how to design communities in an egalitarian kind of way."
Other landscape architecture majors on the team included Forrest Merrill of Meridian, Hardy E. Simmons of Ridgeland, and Xin Lin, Zhengfei Lu and Fan Yang, all of Starkville. Merrill and Simmons now are seniors; Lin, Lu and Yang, all graduate students.
Their low-budget project was initiated after Crabtree had received a national Brancheau Service-Learning Scholarship. He chose to apply the $500 award toward its implementation.
In addition to the library, additional support for the project was provided by MSU's Extension Service and Center for the Advancement of Service-Learning Excellence. Bell Building Supply, a neighbor to the library, provided all building materials at cost.
For more about the landscape architecture department, visit www.lalc.msstate.edu.