Panola County junior at MSU authors national research study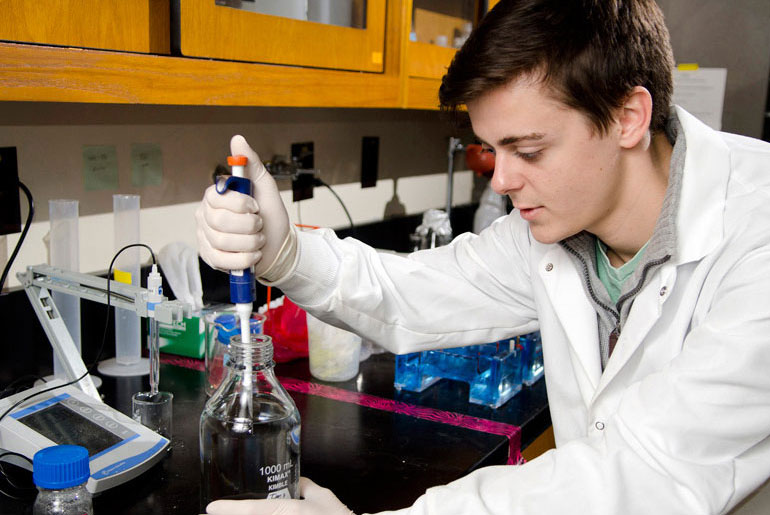 A Batesville honors student at Mississippi State is the lead author on a research study being published in the December edition of an international medical journal.
The report in Virology by university junior Lucas J. Ferguson is titled "Influenza D virus infection in Mississippi beef cattle." A new influenza virus and its impacts on bovine production systems is the article's focus.
Ferguson, a double-major in microbiology and biochemistry, is a graduate of the Mississippi School for Mathematics and Science in Columbus. A first-place winner earlier this year in MSU's Undergraduate Research Symposium competition, he is a President's List Scholar and Shackouls Honors College member.
As part of a research effort guided by Dr. Henry Wan, an associate professor with MSU's College of Veterinary Medicine, he and others investigated a novel influenza virus distantly related to human influenza C virus to which nearly all humans have been exposed at some point.
In 2011, a related virus called IDV was found in swine in Oklahoma. Later detected in bovine in the United States, France and China, it most recently has affected cattle populations in Texas, California, Kansas, Minnesota, Nebraska and Oklahoma.
"We wanted to learn more about IDV's epidemiology and if it was present at any point in Mississippi cattle," Ferguson said. "We also wanted to understand the impact of beef production management on virus infection and maintenance."
The MSU-led team included Drs. Bill Epperson, Carla Huston and David Smith, and Li-Ping Long, all with the veterinary college. Others were Drs. Richard Webby and Laura Eckard with St. Jude Children's Research Hospital in Memphis, Tennessee.
Ferguson said the team has determined that IDV has existed in Mississippi beef cattle since 2004. Data also suggests that weaned, comingled calves transmit the virus more rapidly than other cattle populations, he explained.
Having studied influenza viruses since his graduate work in China, Wan said this latest investigation "will help us know where to look for influenza cases." Cattle producers also will have information "to help them better control transmission," he said.
As an MSMS senior, Ferguson first learned basic biosafety and laboratory research skills while working in Wan's CVM laboratory. To expand his developing scientific skills, he enrolled at MSU after graduation and continued working with the CVM's influenza research program.
Wan established the research program in 2009 after coming to MSU from the Centers for Disease Control and Prevention in Atlanta, Georgia. He currently focuses on the ecology, evolution and host-pathogen relationship for emerging and re-emerging infectious and zoonotic diseases.
Zoonotic diseases are those communicable between animals and humans.
As a senior next year, Ferguson said he plans to continue studying the ecology of influenza viruses—that is, how they interact with their environment and spread among their hosts.
"Influenza is so versatile, so research in this area could potentially be beneficial to making better vaccines and protecting human and animal populations," Ferguson said.
Wan said he typically recruits two to three undergraduates each year like Ferguson who have shown a strong interest in microbiology, biochemistry, engineering or related fields.
Over the past four years, more than 10 undergraduates have worked in his campus influenza research program. In addition to MSU, they attended Hiram College, Mississippi Valley State and Spring Arbor universities and the universities of Memphis, Michigan and Southern Mississippi.
To read the report by the MSU research team, see www.sciencedirect.com/science/article/pii/S0042682215003888.
Biochemistry, Molecular Biology, Entomology and Plant Pathology