Japanese linebacker at MSU gets first-hand view of U.S. football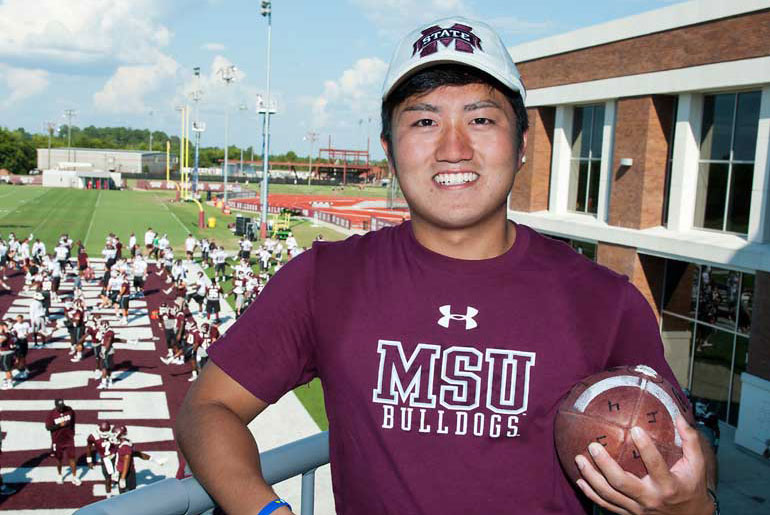 Experiencing a Mississippi State football game at Davis Wade Stadium is among students' most cherished collegiate experiences. For Kentaro Kobayashi, a visiting Japanese student who has spent the month of September at MSU, watching the Bulldogs play has been an unforgettable part of a unique international experience.
Earlier this month, Kobayashi attended his first U. S. game when the Bulldogs played host to the Louisiana State University Tigers before a sold-out Davis Wade Stadium crowd of more than 65,000.
While it may have been his first game in this country, Kobayashi is no stranger to the sport. In Japan, he plays linebacker for the Kyoto University Gangsters, a member of the Kansai Collegiate American Football Association.
To help the team gain in-depth appreciation for the sport as played on this side of the Pacific Ocean, Kobayashi's coaches selected various NCAA Division 1 programs and held a lottery among the players.
Through the process, each was assigned randomly a U.S. university to visit. While on campus, Kobayashi is observing football practices and games to learn more about the sport and take helpful knowledge back to his own team. Additionally, the trip is serving as a complete cultural exchange visit including English classes each morning.
While doing research about MSU and making preparations for his visit, Kobayashi discovered Chieko Iwata, MSU's Japan outreach coordinator.
The outreach program is a collaboration among MSU's School of Human Sciences and College of Agriculture and Life Sciences and the New York-based Japan Foundation Center for Global Partnership and Laurasia Institution in Seattle, Washington.
"Kentaro is living as a typical MSU student," said Iwata, explaining that the experience is best described as "a team effort" for all involved.
She said human sciences administrators and faculty have been especially helpful. "As the hospitality state, they've rolled out the welcome mat, so to speak," she added.
Kobayashi has been housed this month with an MSU student who is studying Japanese. To get around, he borrowed a bicycle from a faculty member. He has taken an English class for two hours each day and, most importantly, has observed Bulldog football practice nearly every afternoon.
In high school, Kobayashi played rugby. As a freshman engineering major at Kyoto University, he's been involved with American-style football for about five months.
"Americans love football; it is big business here," he observed. The game isn't all he has taken in, adding: "Tailgating is a very big deal; it is like a big festival."
He said the strength and endurance of the MSU players have inspired him to continue developing his own strength and stamina regimen.
"When I return home, I will share what I learned here at MSU," Kobayashi said. "While individual strength is essential, I've also learned the importance of a strong team. That is something I would like to help continue to develop in our team back home."
When Kobayashi does join other team members to describe their American experiences, his presentation probably will be unlike any of his peers.
In addition to explaining football strategies at Mississippi State University, he'll be able to show his team his own autographed cowbell given to him by President Mark E. Keenum during a recent meeting in the chief executive's Lee Hall office.