MSU receives federal support for 'RainWorks' demonstration project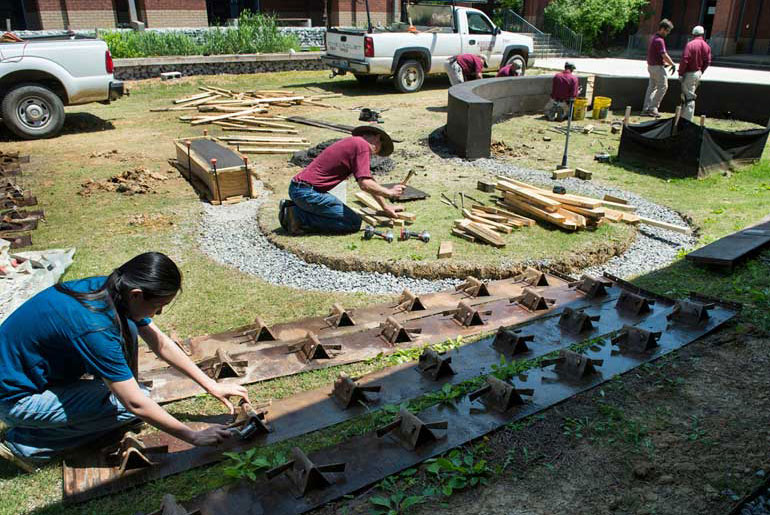 With a $20,000 U.S. Environmental Protection Agency grant, Mississippi State is creating a green infrastructure demonstration project.
A collaborative effort between faculty and students in the university's landscape architecture, civil and environmental engineering, and art departments, the project involves construction of a 1,500 square-foot bioretention basin—rain garden—that will be the first of its kind on campus.
Cory Gallo said the rain garden is being located in the courtyard of the landscape architecture department where he is an associate professor.
The basin is being designed to treat at least 95 percent of the average, annual rainfall for the watershed it will manage. It also will be equipped with two educational kiosks to help visitors better appreciate the facility's function and benefit to water quality, Gallo added.
Green infrastructures reduce the volume of stormwater discharges by managing rainwater close to where it falls and removing many of the pollutants present in runoff, making it an effective strategy for addressing wet-weather pollution and improving water quality, according to EPA officials.
In addition to providing participating academic majors with valuable training and experience in the benefits of green infrastructure technologies, the project "hopefully will lead to the campus-wide adoption of green infrastructure technologies," Gallo said.
"By educating current and future practitioners on green infrastructure technologies and their applicability to the South, this effort also will be a regional resource for policymakers to learn about and promote green infrastructure in their communities," he emphasized.
The stormwater mitigation plan was conceived several years ago by a team of MSU landscape architecture, civil engineering and graphic design majors. Their efforts were recognized with a second-place award in the 2013 EPA Campus RainWorks Challenge. See https://www.epa.gov/green-infrastructure/campus-rainworks-challenge-0.
Throughout the current academic year, three original team members will continue working on the project, Gallo said. Student participation is essential since the rain garden primarily is being designed, built, maintained and monitored through classroom activities, he explained.
Gallo worked with assistant professors Gnaneswar Gude of the civil and environmental engineering department and Suzanne Powney of the art department to prepare and submit the grant proposal through the MSU-based Mississippi Water Resources Research Institute.
"Dr. Gude's classes will learn about proper water quality sampling techniques while conducting water monitoring," Gallo said. "Ms. Powney's graphic design students will create interpretive signs for the facility that my students will design and construct."
Gallo expressed appreciation for continuing support of the MSU facilities management department and Brian Templeton, a landscape architecture associate with the MSU Extension Service.