MSU student fashion designer receives national recognition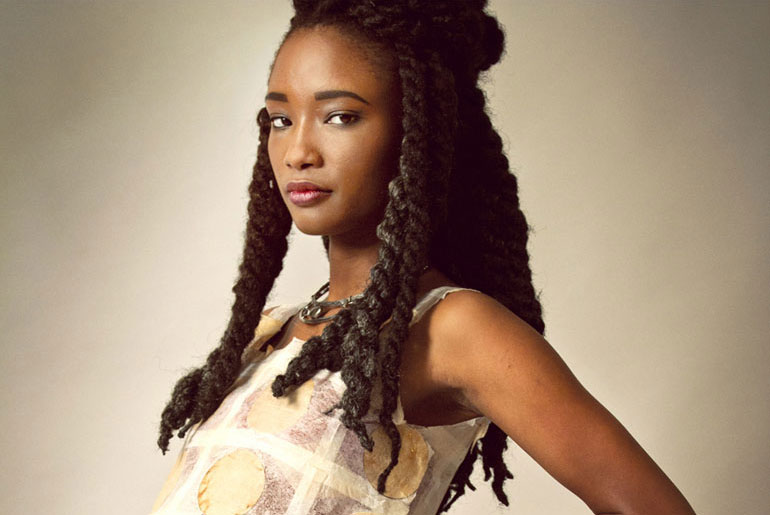 An Alabama senior at Mississippi State is beginning the 2015-16 school year with a major fashion design award
Taylor M. Howell of Fayette is a fashion design and merchandising major in the School of Human Sciences of the university's College of Agriculture and Life Sciences.
Her entry took Best of Show honors in the undergraduate division of the recent 2015 Apparel, Textiles and Design Community Juried Showcase and Exhibition.
The competition was part of the Virginia-based American Association of Family and Consumer Sciences' 106th annual conference. Some 700 professionals, educators, students and others took part in the Jacksonville, Florida, gathering.
"The AAFCS is the organization that accredits clothing, fashion, apparel, design, textile and merchandising curricula throughout the U.S.," said MSU professor Phyllis Bell Miller.
Miller, a veteran faculty member in the School of Human Sciences, said Taylor's entry was a two-piece set with a cropped top and a circular skirt made from upcycled coffee filters, dryer sheets and teabags. The unconventional creation debuted during last year's MSU Trashion Show that featured clothes constructed from recycled material, she explained.
An MSU President's List Scholar, Howell said, "This was the first project I saw through from design to completion. The concept was very different, so I wasn't expecting to win.
"Placing first encouraged me in my work," she continued. "It was a big honor to see my ideas recognized as good for the future."
Miller commended Howell's dedication to the creative process. "Taylor is a wonderful example of a student who really pushed herself and embraced the process instead of cutting corners," she said.
Miller also said Howell clearly has taken to heart advice she continually emphasizes in her classes. "I stress doing the best that you can, learning the most that you can and, as a result, producing the best product that you can," Miller said.
Miller said Howell's most recent accolade "further demonstrates the integrity and excellence of our program." Additionally, she noted that another Howell creation had won first-place honors in the garment manufacturing category of the 2014 Cotton Incorporated Fashion Show held on campus.
Senior Brittany L. Dowell of Vicksburg also was entered in the 2015 AAFCS competition. She and Howell became the first duo from Mississippi State ever to compete at the same event, Miller said.
During last year's Cotton Incorporated Fashion Show, Dowell, also a President's List Scholar, won first place in the fabric-design category. Like Howell, her design entry was completed in Miller's class.
In the photo: Taylor Howell's award-winning ensemble is modeled by Brittany Henderson, also a senior MSU human sciences fashion design and merchandising major.