MSU floral design team takes top national honors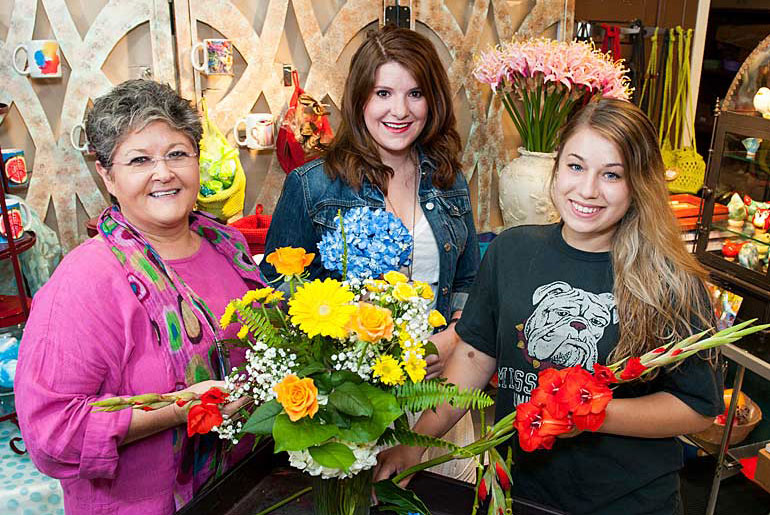 Two Mississippi State seniors are top winners in a national floral design competition.
Camille Tedder of Jackson and Renee Wright of Douglasville, Georgia, received the overall baccalaureate school award at the recent American Institute of Floral Designerís Student Floral Design Competition. The event was part of the organizationís 2015 national symposium in Denver, Colorado.
Both students are horticulture/floral management majors at the university. Tedder also is completing a double-major in business administration.
Their achievement represents the first time since 2013 an MSU team has won the top AIFD student prize, said Lynette McDougald. Since 2005, students at the land-grant institution have won five national titles, the AIFD student chapter adviser noted.
"It's great to see this happen for these two students, and it's great to see MSU's program stand out on the national stage," McDougald said.
Tedder received top individual honors, with highest overall scores and a first-place finish in both the body flowers and duplicate design categories. Additionally, she and Wright placed in the top 10 for bridal bouquets.
"Basically, you sit in a room for four hours and design constantly," Tedder said. "It's tough, but it's a lot of fun."
Tedder also won the professional organization's first scholarship that provides $3,000 toward her AIFD accreditation process. The professional test will be given at next year's symposium in Seattle, Washington, and the award covers the test fee and travel and hotel expenses, she said.
With the AIFD accreditation, Tedder expects to broaden her floral-design career marketability after graduation. She has big dreams, explaining how "it would be fun to design for high-end clients, and it would be cool to design for movie sets or TV shows."
Tedder said her ultimate goal is "to open my own floral shop for special events."
McDougald, an MSU alumna who holds AIFD accreditation, is a horticulture instructor in the plant and soil sciences department. She also directs the The University Florist, the department's full-service flower shop that provides students with day-to-day work and management experiences.
McDougald said MSU's student AIFD chapter has nearly 20 members and is the largest of 15 located throughout the U.S. and Canada. Tedder and Wright are among chapter members currently working at the campus florist.
A longtime faculty member, McDougald said the education and work experiences provided by the MSU program consistently produces graduates that go on to everything from opening their own floral shops to working with wholesale suppliers to special-events design careers. A number have even made their mark in the tough New York City market, she observed.
"We can place anybody; people are begging for our graduates," McDougald said.
Wright, who is leaning toward a wholesale floristry career, praised the national student competition for providing a critical venue to network and market her skills to potential employers.
"I enjoy the competition, but I look at it from the standpoint of how it can help me later," Wright said. "This year, I got two positive job leads."
For more information on MSU's plant and soil sciences department and its floral management and other academic programs, visit pss.msstate.edu.