Profile: Kaley Barber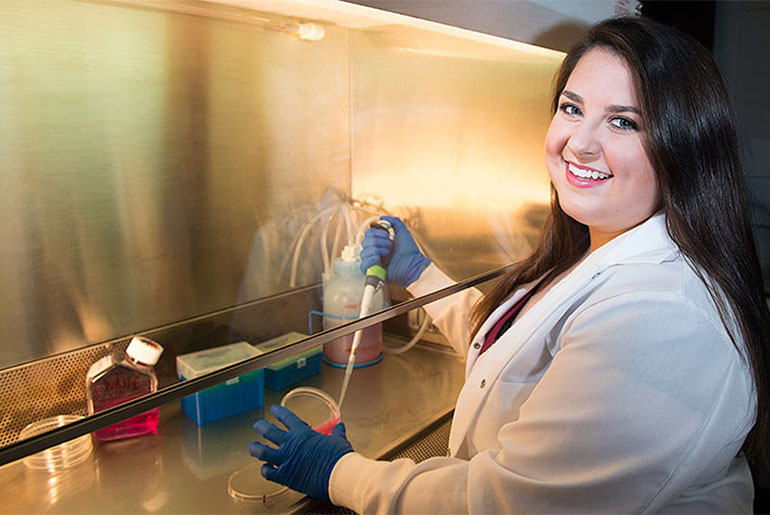 One visit was all it took for Kaley Barber to realize that Mississippi State was the university for her.
"When I came as a high school junior, everybody was so nice and welcoming," the Olive Branch native recalls. "I didn't feel insignificant. I felt like people were excited. They wanted me here. They were like, 'Look what I've done. You can do this, too. There's nothing stopping you.'"
Now a senior biochemistry/pre-medicine major, Barber has worked hard over the years at becoming fully integrated into campus life. She is a member of Alpha Epsilon Delta-MSU's health pre-professional honor society-as well as the university chapter of the American Medical Student Association. This year, she also is excited about serving as vice president of MSU's chapter of the Physicians on the Rise organization.
"It's good to be a part of something," says Barber. "I'm always seeking out ways to improve myself."
As a participant in the College of Agricultural and Life Sciences' Undergraduate Research Scholars Program, she has enjoyed the opportunity to collaborate with assistant biochemistry professor Florencia Meyer. In the Dorman Hall biochemical lab, they are conducting research on the bovine herpes virus type 1, which costs the United States cattle industry about $3 billion annually.
"I love going into the lab because it's a really fun environment," Barber says. "Dr. Meyer is a really supportive mentor. She's not only interested in what we do and how we're understanding it, but she's also really interested in us as people."
Barber says she also enjoyed discussing her research efforts and learning from those of her peers during the campus-wide Undergraduate Research Symposium held this past April.
"It was really amazing to see how much MSU is doing to better the entire state," she says of the experience. "We're incredibly advanced in our research, and it makes me so happy to be part of such a good family."
In addition to enjoying "the prettiest view of the Drill Field" from the third floor of Mitchell Memorial Library, Barber likes to spend her spare time volunteering with the Oktibbeha County Hospital Auxiliary and working as a receptionist at the Starkville Pregnancy Care Center. This past June, she also participated in the North Mississippi Medical Center Physician Shadowing Program in Tupelo.
Barber aspires to be an OB-GYN, and while she recognizes what a big commitment medical school will be, she feels well-prepared and up for the challenge.
"I've never really liked it when something comes to me easily. I like to work hard for it and earn it, so I can enjoy it," she says. "Dedicating my life to medicine, learning and helping people-there's nothing else I want to do."
Biochemistry, Molecular Biology, Entomology and Plant Pathology