Profile: CALS Alumna Mandy Conrad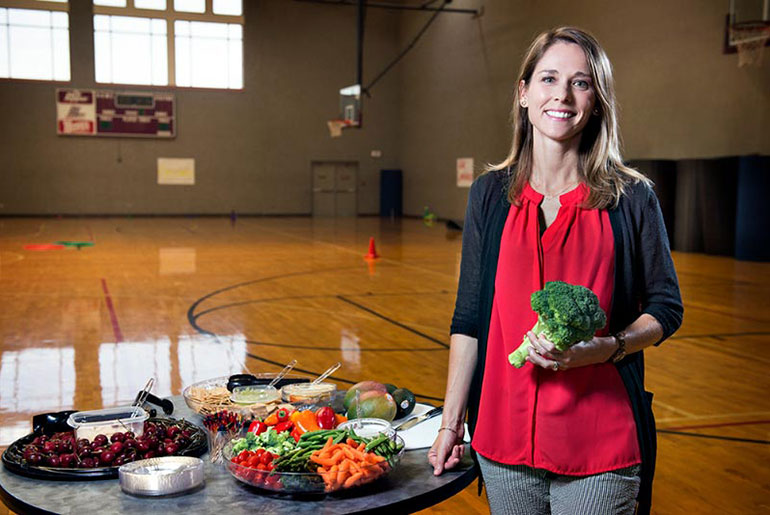 During one of the ongoing nutrition programs Mandy Conrad leads for youth at the Sanderson Center, she wanted to teach a class of 25 how to prepare healthy snacks.
With the fruit, yogurt, granola and nuts she had provided, some of the youngsters made parfaits while others made fruit salad. "They all pretty much put the dark chocolate chips in it regardless," Conrad recalled.
That was just fine with the registered dietician who has been with the campus health promotion and wellness department since 2009. Conrad holds three MSU degrees, including bachelor's degrees in both fitness management and food, nutrition and health promotion, and a master's in health promotion.
Conrad said her professional goal for clients is to have positive relationships with food and not focus too intensely on certain foods being "bad for you."
Instead, she stresses healthier options and a limit on consumption of such less-healthy products as sweets and sugary drinks.
"I'm very cautious, maybe because I do work with students who have eating disorders, not to not instill guilt when talking about eating healthy," Conrad explained. "I really try to look at the big picture and take a positive approach to nutrition because it makes me sad when I talk to so many people who have such a negative relationship with food."
While some she encounters "are surprised that I'm not more militant when it comes to nutrition," Conrad said she tries to "see all the sides of it. I just want people to be open to trying healthy foods.
"We can talk all day about nutrients, but healthy choices also taste good and make you feel good," she added.
Two days each week at the Longest Student Health Center, Conrad meets with MSU students to share nutrition advice. Some who come are medical referrals, while others have made appointments on their own for the free service. Other major parts of her work schedule include nutrition workshops and cooking demonstrations for student groups, youth camps, and campus faculty and staff.
Mindful that adopting healthy eating habits and trying new recipes may be intimidating for some clients, Conrad said she refrains from promoting unattainable diets. Instead, she focuses on food options that are practical for students on tight budgets.
For that reason, she said healthy microwave cooking features prominently in her demonstrations because it's quick, easy and students already are accustomed to it.
"I try to keep it fun and easy, so it's something people want to do," Conrad said. "It's not like it's some grand, glorious novelty that we're trying to uncover, but it's just trying to pull together simple, realistic and budget-friendly ideas that people can use."