Kroger Co. sponsors MSU food camp with $50,000 gift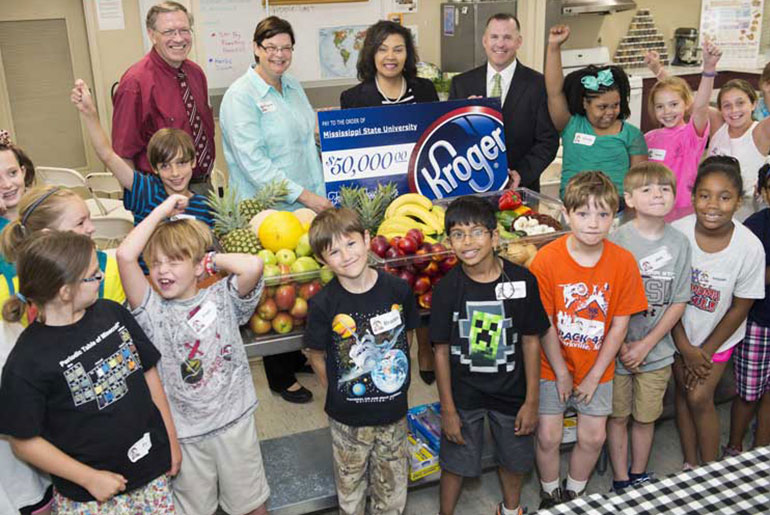 A gift from The Kroger Co. is funding scholarships for the Fun with Food Camp at Mississippi State University.
Kroger's Delta Division formally presented the $50,000 gift at the week-long camp on Tuesday [June 16]. Teresa Dickerson, public affairs manager for Kroger's Delta Division, attended the camp for the first time and said the camp reflects Kroger's mission of educating children about nutrition.
"Kroger has three main focus areas dedicated to service: feeding hungry families, education and health initiatives," Dickerson said. "Healthy children become healthy adults so we are thrilled to sponsor this camp that educates young people about nutritious food."
Kroger has provided support for the university camp since its inception in 2007, however, this was the first time for a company representative to visit the camp. Dickerson found campers learning about roasting and tasting spaghetti squash, sweet potatoes and Brussels sprouts. In the kitchen, students were busy making quiche, salad and apple tarts.
"The Fun with Food Camp is wonderful and we are so proud to be affiliated with this opportunity to provide scholarships for children to attend," Dickerson said. "The aroma that permeates the kitchen and seeing children excited about cooking and eating vegetables was a great experience."
The Fun with Food Camp is hosted by faculty in the university's Department of Food Science, Nutrition and Health Promotion in the College of Agriculture and Life Sciences. The camp, which has served over 200 children since its inception, immerses children in hands-on food preparation and lessons about food from farm to table. Afternoon field trips illustrate lessons learned in the morning sessions, including trips to the Mayhew Tomato Farm and several MSU facilities including the R.R. Foil Plant Science Research Center, the Animal Production Unit and the Custer Dairy Processing Plant.
"This week, we have welcomed 26 third- through sixth-grade students, four junior counselors who attended food camp last year and 12 undergraduate student counselors," said Sylvia Byrd, food science, nutrition and health promotion professor and camp director. "The assistance we receive from Kroger and other sponsors helps us continue offering the Fun with Food Camp."
The Kroger Co. and MSU faculty agree that the experience of cooking and tasting healthy foods increases consumption, contributing to a healthier lifestyle for these young people. Campers are equally enthusiastic about the camp.
Sebastian Harvey, a 9-year-old first-time camper from Starkville, found that learning knife skills is one of his favorite things to do at camp.
"I learned how to make hummus and yogurt, and I learned knife skills," Harvey said.
Eight-year-old Chelsea Curtis of Louisville enjoyed learning about different foods.
"I learned about foods from Asia and France, plus I got to try some foods I have never eaten before," Curtis added. "My favorite part of camp is learning how to cook."
For both Harvey and Curtis, the prospect of taking these skills home and cooking for their families is exciting.
"Research has shown children who are involved with food preparation increase consumption of fruits, vegetables and whole grains," said Byrd. "The camp strives to teach children the importance of food safety, healthy diets and lifestyles, while involving them in the farm-to-table process."
Mississippi is home to more than 30 Kroger retail stores, many of which serve as the anchor grocery store of their respective communities. The impact of Kroger's gift will influence future generations and improve the health of Mississippians for years to come, Byrd added.
For more information on the Department of Food Science, Nutrition and Health Promotion in MSU's College of Agriculture and Life Sciences, visit www.fsnhp.msstate.edu.