Profile: Chieko Iwata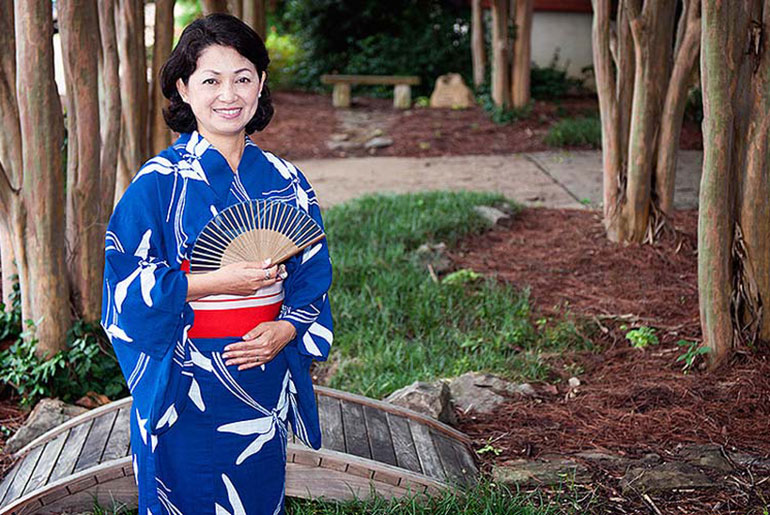 Chieko Iwata came to Mississippi State University earlier this year to help people understand Japanese culture and essential Asian businesses values, such as harmony, dignity and respect.
A resident of Japan, wife and mother of two grown children, Iwata is taking two years to live across the world and work in support of the Japan Outreach Program. The initiative develops understanding of Japanese culture through community outreach.
Made possible through The Laurasian Institution and The Japan Foundation Center for Global Partnership, MSU's School of Human Sciences also became a partner and is sponsoring Iwata's time at the university to facilitate cultural classes and events for K-12 students, college students, community organizations and the general public.
This spring, Iwata led several classes on topics such as the traditional Japanese tea ceremony, Origami, traditional Japanese clothing, flower arrangement, storytelling and calligraphy.
She said teaching Japanese business etiquette also has been particularly important at MSU because Japan is Mississippi's largest external investor. The arrival of Yokohama Tire Company in West Point means Japanese companies are adding more jobs to the state and regional economy.
Iwata has been studying English since middle school, and her family has embraced international exchange programs for years. Not only was she an exchange student in New Jersey as a high school student, but her husband also did an exchange in California. Her daughter was an exchange student in Maine, and her son also traveled to California for studies. In Japan, the family hosted a student from Ohio.
Iwata also loves to travel, so she's enjoying her time in Mississippi and has made a point to take small excursions to neighboring states.
"People here are warm. They hug and smile and say 'hi,'" Iwata said of the hospitality she's experienced. "It fits me here," she added.
For more on the Japan Outreach Program, contact Iwata at ci129@msstate.edu.