Walker awarded First South Farm Credit Scholarship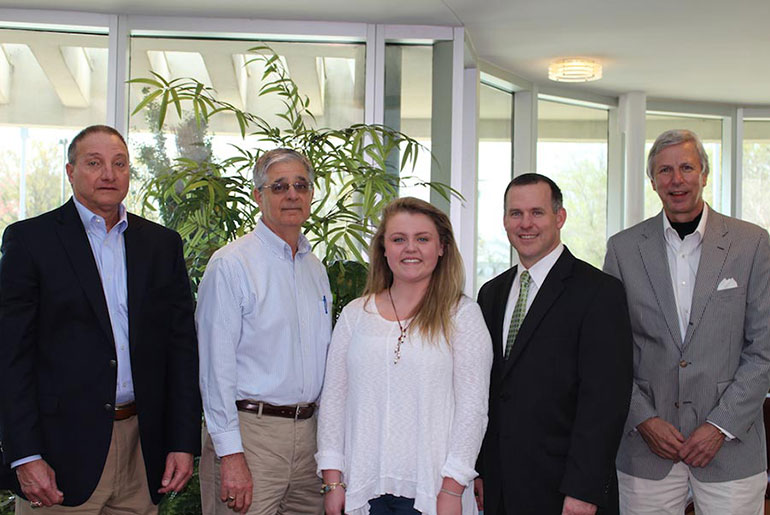 Britton Walker of Starkville has been selected as the recipient of the First South Farm Credit Endowed Scholarship. She is a sophomore in the food science nutrition health program in the MSU College of Agriculture and Life Sciences (CALS).
"The most exciting thing about receiving this award is knowing that there are people who support me and what I want to do with my life," said Walker, who plans to pursue a master's degree and eventually become a registered dietitian. "Although directing nutrition for a public school system is my short-term goal, I hope to eventually work for the government by writing the food policy for public school systems in the United States."
Established in 2010, the First South Farm Credit Endowed Scholarship was created through a $40,000 gift from the organization. Awarded to undergraduate students pursuing degrees through CALS or the College of Forest Resources, the scholarship requires a 3.0 or higher grade point average and demonstrated leadership ability.
First South Farm Credit is a financial service provider, specializing in land and agricultural production financing for farmers and agribusinesses in Mississippi, Louisiana and Alabama. The organization's corporate and Mississippi division office is located in Ridgeland. First South Farm Credit is a part of the Farm Credit System, which was established in 1916 as a nationwide network of borrower-owned lending institutions and specialized service organizations.
"This scholarship is extremely important to me because of who it comes from," Walker said. "I'm from a family that has always been involved in agriculture and being awarded this scholarship was not only special to me, but to my family as well."
For 30 years, First South Farm Credit has been a dedicated supporter of MSU, contributing to numerous areas. The organization's generosity has helped foster a greater reach in the educational experience and success of MSU students and faculty.
"We as agricultural lenders and advocates for agriculture in the state of Mississippi are appreciative of the expertise that Mississippi State offers us," stated John Barnard, Charles Rocconi, and Sells Newman, corporate officers of First South Farm Credit.
The officers further stated, "Mississippi State is always there when we need something, and we've built a great relationship with the university. This is a way for us to give something back."
For more information about creating scholarships in the College of Agriculture and Life Sciences, contact Jud Skelton at 662-325-0643 or jud.skelton@foundation.msstate.edu.