Kindergartners enjoy 'Afternoon on the Farm'
Author: Robert Nathan Gregory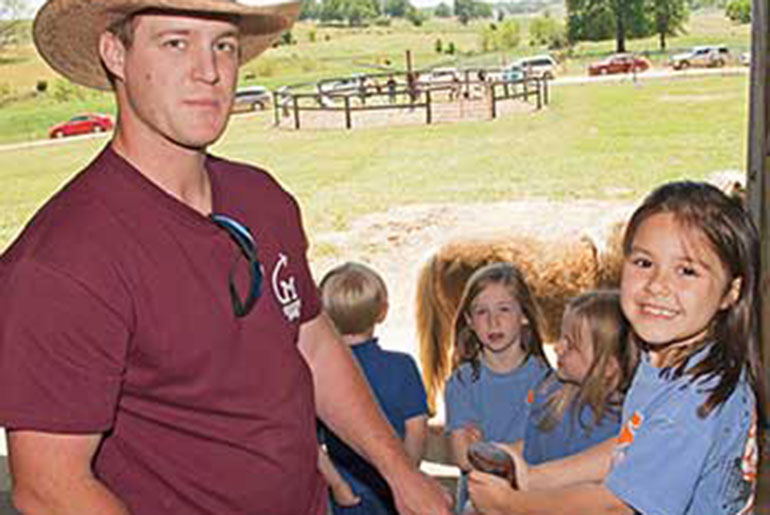 More than 60 area kindergartners and homeschoolers enjoyed an Afternoon on the Farm last week.
Thirteen senior students in the Mississippi State University Department of Animal and Dairy Science managed the first edition of the event May 1. Held at the H.H. Leveck Animal Research Center, commonly called the South Farm, this program was part of a service-learning project students organized as part of the Capstone in Animal and Dairy Science course.
Three groups of students ran stations aimed at teaching children fundamental information on livestock agriculture. Educational activities provided kindergartners in-person interaction with sheep, horses, and beef and dairy cattle.
At other stations, children learned how to make butter and what farm animals eat. They competed in obstacle courses, where they raced in feed sacks and played horseshoes.
"The students have learned all the technical aspects of the academic discipline through animal science courses, but for the service component, they have to learn how to communicate that information to a 5-year-old," said assistant professor and Extension beef cattle specialist Brandi Karisch. "They've learned a lot about how to communicate on that level. The kids all seemed excited about petting the animals, and they were asking a lot of questions."
Karisch and undergraduate coordinator Jessica Graves co-teach the capstone course. Graves said the original plan was to hold the event for homeschoolers in the Golden Triangle.
"We were approached by kindergarten teachers at Starkville Academy," Graves said. "Kindergartners were in that age range we were looking for, so it worked out well to have a lot of kindergartners and homeschool families here."
Animal and dairy science major Haley Thompson of Morton said another part of the project was putting together a children's booklet that included educational activities designed to teach students about animal agriculture.
"We spent all semester preparing for this," Thompson said. "We've all contributed ideas and came up with the different activities we wanted to do."
Holden Walters, a kindergarten student at Starkville Academy, said his favorite activity at the farm was learning about beef cattle.
"We figured out which parts of cows we get meat from," he said. "I think what is interesting is how they have to wear tags."
Thompson said her main goal was to teach children about livestock, but she did not realize until the day she was doing so that she would enjoy it as much as she did.
"It's definitely been a lot of work," she said. "The kids seem to be pretty fascinated, and I like watching them learn. We want to teach them as much as we can for future generations to keep agriculture going."
The Department of Animal and Dairy Sciences is in the College of Agriculture and Life Sciences. Find out more at ads.msstate.edu.