MSU graduate student honored for agricultural research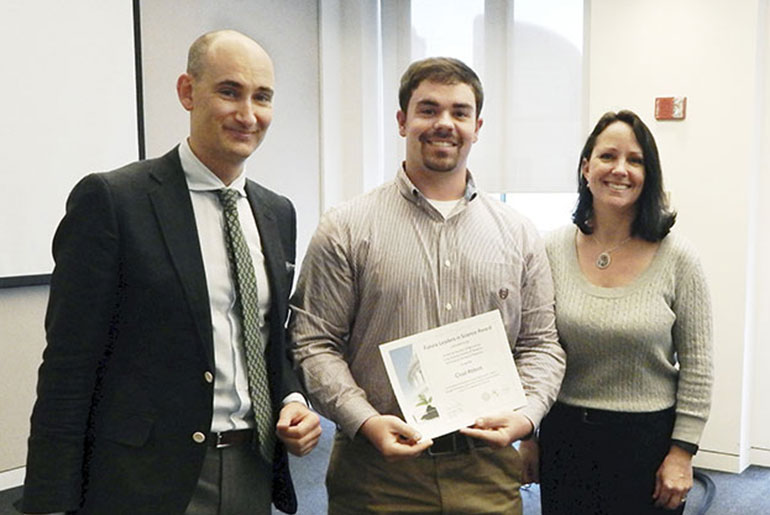 A Mississippi State graduate student is part of a national group honored recently for achievements in agricultural research.
Chadwick C. "Chad" Abbott of Martinez, Georgia, is among 18 selections for a Future Leaders in Science Award given annually by the American Society of Agronomy, Crop Science Society of America and Soil Science Society of America.
Chosen from among 70 applicants, he and other winners received an all-expense-paid trip to Washington, D.C., for Congressional Visit Day, where they helped advocate to members of Congress on behalf of agricultural research.
Abbott is pursuing a master's degree in agronomy in MSU's College of Agriculture and Life Sciences. Before coming to Starkville, he received a bachelor's degree in wildlife technology from Abraham Baldwin Agricultural College in Tifton.
He expressed appreciation "for the opportunity to promote and advocate for agriculture on a larger scale" with the three organizations while also representing MSU.
"It is our responsibility as scientists to advocate for practices that will benefit both producers and consumers as a whole," he continued. "Advocating for science and talking with Congress about current research and why we need to continue to fund these critical experiments is one of the many ways we can accomplish this."
Abbott gave special thanks to faculty adviser Jason Sarver for "guiding me in a positive direction."
Sarver is an assistant extension and research professor in the plant and soil sciences department, as well as a researcher with the Mississippi Agricultural and Forestry Experiment Station. As a past winner of the Future Leaders of Science Award, he accompanied Abbott on the trip.
"Chad is an excellent communicator, which makes him the ideal candidate to speak with legislators about the importance of agriculture," Sarver said. "He has a strong desire to learn and experience new things."
He noted that Abbott had spent his entire time at Abraham Baldwin "as a student worker in an agricultural research program." Because of that consistently high level of dedication, he said the Georgian "understands the research process, knows what it takes to conduct outstanding scientific research and recognizes the importance of this research to the future of agriculture and food production."
For information about MSU's plant and soil sciences department, visit www.pss.msstate.edu.