Leland Community Service Award goes to MSU team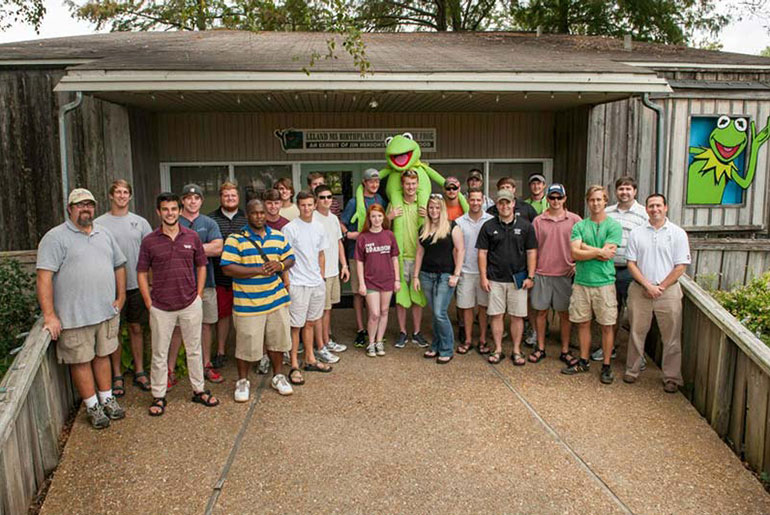 After four years of working to improve a Central Delta community's quality of life, a cross-collaborative Mississippi State team was recently thanked and honored by local residents.
The Leland Chamber of Commerce recognized staff members and colleagues of the university's John C. Stennis Institute of Government and Community Development and the Department of Landscape Architecture with the 2015 Community Service Award.
Melia Christensen, executive director of the Leland Chamber of Commerce, credited the institute team for mobilizing community-development specialists to assist leaders of the Washington County community.
Team members include Joe Fratesi, project director at Stennis; Jeremy Murdock, research associate for the institute; and Taze Fulford, MSU associate professor of landscape architecture; as well as many MSU students and staff who have assisted in projects over the years.
"The Stennis team working with our community was very personable and knowledgeable, and it's easy to see that they genuinely love our community," Christensen said. "Their visits have inspired a new park space, the site selection for a new museum and a bed-and-breakfast—which won an award from the Mississippi Main Street Association. We are making huge strides in community and economic development thanks to their efforts."
Leland leaders initially reached out in 2012 to the Stennis Institute, a statewide resource organization, to participate in its First Impressions program, Fratesi said. In addition to enabling community heads to learn how first-time visitors may perceive the neighborhood, the program helps administrators and other key municipal players determine issues to consider for action.
For the park project in Leland, institute representatives partnered with Fulford and MSU landscape architecture majors in his design course to develop a community master plan. Students visited and designed plans for a park and other public spaces in the community.
The students recommended the creation of a municipal park to run along Deer Creek that winds through the center of Leland. Fratesi, Murdock and Fulford were inspired to partner with community leaders to apply for a National Endowment for the Arts grant.
The independent federal agency agreed to provide $25,000 to help fund a new Creative Park near the Jim Henson Museum, a tribute to the late Muppets creator who resided in Leland as a child.
The MSU team contacted Robert Poore, a 1986 MSU alumnus who is the principal landscape architect with Flora-based Native Habitats Inc., who agreed to design the park, and the rest, as they say, is history.
Fulford credited Stephanie Patton, editor and publisher of The Leland Progress, for providing the resources necessary to support the students' visit.
"She found the Thompson House for us to stay in, which turned into another successful project for the city as it now is a bed-and-breakfast," Fulford said. "During the course of the studio and longer projects, she also helped find contacts for different local groups that since have been brought into the project."
Fratesi and Murdock agreed that Patton's personal influence and positive attitude were critical in creating the successful dynamics for community improvement.
"Patton passionately and genuinely cares about Leland and is heavily involved in helping improve the social and economic conditions in her town," Fratesi said.
In addition to Christensen, other locals cited by the Stennis team are Mayor Kenny Thomas, city engineer Ron Cassada, the Leland Board of Aldermen, the Washington County Board of Supervisors and the school board and superintendent.
"Rather than asking for the silver bullet solution that will solve all of their problems, Leland leaders understand that change is not that simple," Murdock said. "They always have been willing to be engaged in the process of generating solutions and identifying creative strategies for improving their community. They realize that, while Mississippi State University can provide important professional resources, it is up to the community itself to make the changes."
To learn more about Stennis Institute community-development initiatives, visit www.sig.msstate.edu. To learn more about the department of Landscape Architecture, visit www.lalc.msstate.edu.