MSU introduces new equestrian club sport
Author: Brittany Claire Jacks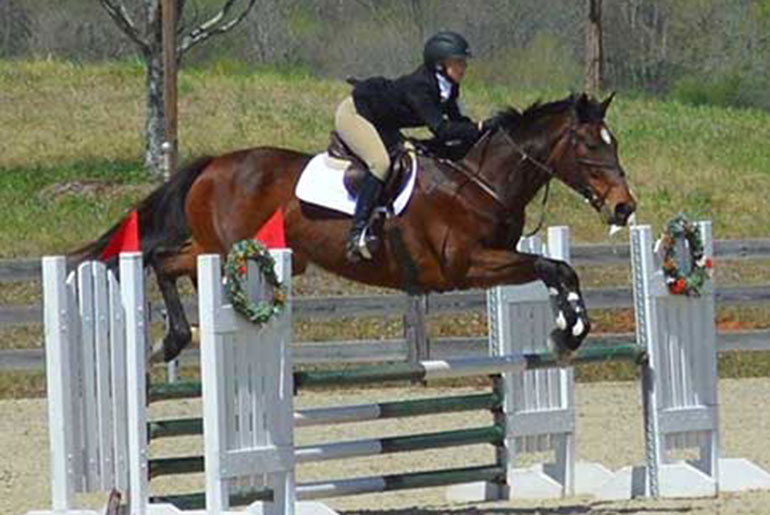 Working with horses is not uncommon for Mississippi State University students, but competing with them is.
The Eventing Team, or "Equestrian Triathlon," is MSU's newest equestrian club sport, founded in the fall of 2014. The introduction of the Eventing Team to MSU follows that of the introduction of the Equestrian Team in 2001.
MSU is the first university in Mississippi to compete in both collegiate Equestrian Team competitions and Eventing Team competitions. The MSU College of Agriculture and Life Sciences' Department of Animal and Dairy Sciences sponsors both teams, which are advised by Molly Nicodemus, associate professor of equine sciences.
Eventing consists of three phases: dressage, cross-country and show jumping. Dressage tests the communication between horse and rider by the completion of maneuvers. Cross-country tests the endurance, speed and ability of the pair to attack jumps on a course several miles long. Show jumping requires the horse and rider to demonstrate athletic ability over multiple fences. Nicodemus said Eventing Team members travel with their own horses to these competitions.
Betsy Ball and Jessica Shull coach the Eventing Team, which is housed at Redbud Farm in Starkville. Participating students range from experienced competitive riders to those new to the equestrian triathlon.
"We encourage students to sign up for riding classes offered by the animal and dairy sciences department to continue their practice working with different horses," Nicodemus said.
"At competitions, an eventing team consists of four riders who compete for both individual and team awards, but the university can bring multiple teams to a competition," she said.
Sarah Buffington, a sophomore from Jackson majoring in animal and dairy sciences, said being new to the sport helped her learn more about the world of eventing, but it also presented some difficult tasks.
"As an officer on the team, I have learned what it takes to create a club sport, including marketing, promotion and fundraising," she said. "The most challenging aspect so far has been training. The horse and rider are a pair of athletes that must be completely prepared for all the challenges that the sport will offer."
Buffington, who rides her thoroughbred ex-race horse, Carpenter Jack, said she enjoys being part of a team that is passionate about what it does.
"The Eventing Team is a wonderful group of people," she said. "I have gained new friendships and admire how hard everyone has worked to benefit the team. Every member cares so much."
The Eventing Team began its season in early April. In its first competition, the MSU Eventing Team placed fourth overall in competition against teams from the University of Alabama and University of Georgia. Team Vice President Alli George placed first overall out of 23 riders in the intercollegiate division on her horse, Belle of the Ball. The Eventing Team's next shows will be at Chattahoochee Hills International from May 15-17 and Poplar Place Farm from May 29-31.
The Department of Animal and Dairy Sciences provides multiple scholarships to students with equine interests and background, such as those on the Eventing and Equestrian Teams.
Students interested in the Eventing Team can contact Nicodemus at mnicodemus@ads.msstate.edu. For further information on intercollegiate eventing, go to useventing.com.