Kroger gift makes nutrition fun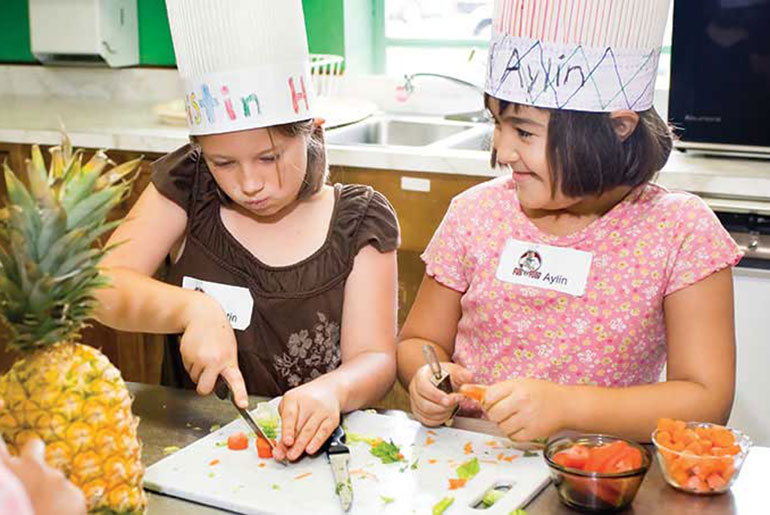 Mississippi State University has always embraced the role of being a premier land-grant institution, providing vital and engaging research and teaching services to our state and the world beyond. As today's culture continually promotes an instant gratification mentality, the prevalence of diabetes and obesity soar. MSU and The Kroger Delta Division are working together to combat those forces by bringing Mississippi back to its roots.
In 2007, the Food Science, Nutrition, and Heath Promotion Department (FSNHP) in the MSU College of Agriculture and Life Sciences established the Fun with Food camp for elementary children to help them better understand food and nutrition. Under the supervision of MSU FSNHP faculty and students, along with local chefs, participants are engaged in hands-on learning experiences. Recently, The Kroger Delta Division became a sponsor of Fun with Food after providing a $50,000 gift to expand the support and outreach of the camp.
"Fun with Food provides children with an opportunity to learn about food from the farm to the table, and allows our students to experience nutrition education and program evaluation firsthand." said Sylvia Byrd, FSNHP professor who also serves as the director of Fun with Food. "In the history of Fun with Food, over 200 children, 12 graduate students and 43 undergraduates have participated."
Fun with Food welcomes up to 30 of the area's third through sixth grade students a unique opportunity to experience food preparation, knife skills and nutritious eating during the one-week summer camp on the MSU campus. The camp strives to teach children the importance of food safety, healthy diets, and lifestyles, while involving them in the farm to table process. As they prepare and participate in games, students use math, reading and time management skills, while tasting new foods, flavors, fruits and vegetables, which they may not experience within their home environments.
Along with preparing daily meals and snacks from scratch, students also attend field trips to the Mayhew Tomato Farm and several MSU facilities including the Garrison Sensory Evaluation Lab, the Animal Production Unit, and the Custer Dairy Processing Plant. On the final day of camp, students tour the local Kroger store to learn how to choose healthy foods.
"Research has shown children who are involved with food preparation increase consumption of fruits, vegetables and whole grains," said Byrd.
Mississippi is home to over 30 Kroger retail stores, many of which serve as the anchor grocery store of their respective communities. Kroger's gift will be used to create scholarships to cover registration fees, allowing MSU the opportunity to recruit children from low-resource families to experience the camp. It will also be used to expand and enhance camp offerings and field trips.
Educating young children about the importance of food is vital to changing the health trajectory of the state. Mississippi's diabetes, cardiovascular and obesity rates are among the highest in the nation. These chronic illnesses may be eliminated with healthier lifestyles.
These issues are closely associated with the state's high rate of poverty, as well as the low attainment of higher education among its citizens. Together, these challenges strongly impact the state's economy and workforce readiness efforts.
Mississippi State University and Kroger are actively working to reverse these statewide public health issues by exposing more children to the importance of understanding food and healthy lifestyles. Fun with Food feeds Mississippi's new generations with essential, life-shaping education, from the roots up.