MSU, Hinds CC announce precision agriculture partnership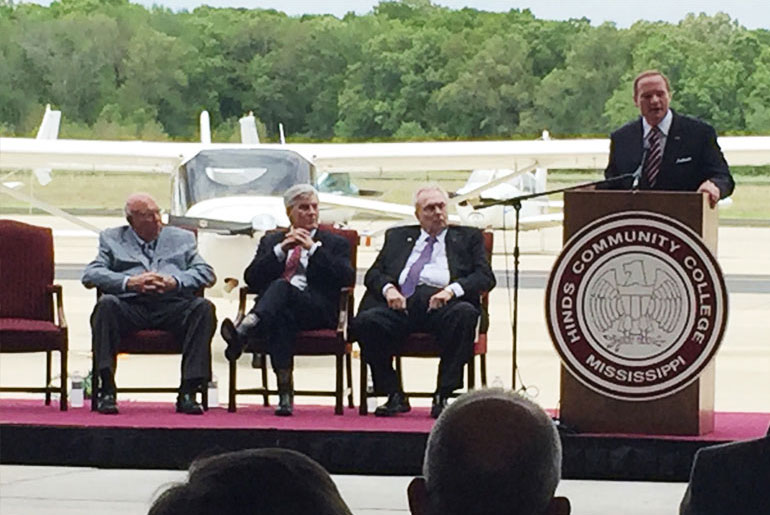 Hinds Community College and Mississippi State University today have agreed to forge a new 2 Plus 2 partnership in precision agriculture that will strengthen the agricultural economy in Mississippi and promote the interests of farm families that are the foundation of that economy.
The two higher education institutions are working together to create the new program for Fall 2015 that draws on the use of computers and Global Navigation Satellite Systems as well as unmanned aircraft technology, remote sensing, global positioning, geographic information systems and variable rate technology.
Technology has many uses in precision agriculture, allowing for more efficient operations. For instance, it can be used for creation of topographical maps of farmland that help in deciding what to plant and where, irrigation and pest control.
As part of the partnership, Hinds will offer two options with the completion of the associate of applied science degree, one allowing students the opportunity to go directly into the workforce.
"Our students will be able to enter the workforce immediately, if they so desire, and will have the hands-on skills that they need to contribute productively to the vital Mississippi agricultural industry," said Hinds President Clyde Muse. "We are also pleased they will have the option of continuing their education for a bachelor's degree that will further strengthen their training."
Students will also have the option of transferring to Mississippi State's College of Agriculture and Life Sciences with 60 hours of community college coursework toward a bachelor's degree in agricultural engineering technology and business with a concentration in precision agriculture.
"This collaboration between our university and Hinds Community College is a win-win for both institutions and for the state of Mississippi as we prepare well qualified professionals to work in a field that is of tremendous importance to our economy," MSU President Mark E. Keenum said.
Hinds Community College's aviation department is headquartered at John Bell Williams Airport near the Raymond Campus, which is the only airport in Mississippi owned and operated by a community college. The existing aviation program includes commercial aviation, aviation maintenance technology and aviation technology. Aviation technology has four programs: air traffic control technology, airport operations and aviation security technology, all based on the Rankin Campus, and unmanned aerial systems, based at the airport.