Neshoba graduate student at MSU selected for national honor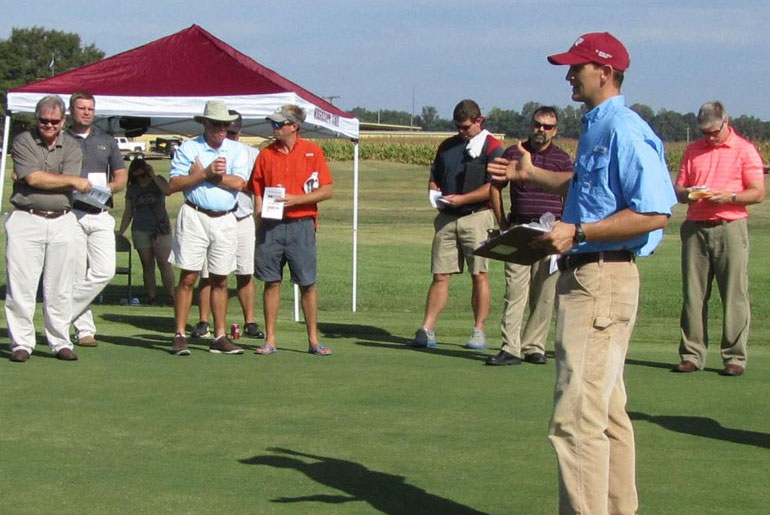 A Mississippi State graduate student from Philadelphia is receiving a fellowship from the national turfgrass industry.
Phillip L. Vines has been honored with a $5,000 grant from the Dr. James Watson Fellowship Program of the Golf Course Superintendent's Association of America. He is pursuing a master's degree in plant pathology in the university's College of Agriculture and Life Sciences.
Funded by the non-profit association and the Minnesota-based Toro Co., the fellowship is a memorial to the agronomist and turfgrass management pioneer who retired in 1998 as Toro's vice president of customer relations.
Vines, the son of James and Tammie Vines, was selected along with two doctoral students from Rutgers University in New Jersey. A 2011 magna cum laude MSU graduate in agronomy/golf and sports turfgrass management, he will complete the master's degree program in May.
"It's an honor to receive this fellowship," Vines said. "The monetary assistance provides the peace of mind needed to really focus on my work and the prestige of the award will have a significant impact on my future endeavors in turfgrass science."
The Watson Fellowship was created to recognize "the top students in turfgrass in the country," said Maria Tomaso-Peterson.
An associate research professor in biochemistry, molecular biology, entomology and plant pathology, she directs Vines' graduate program. While he is the first in six years at the master's level to receive the award, Vines is Tomaso-Peterson's third student chosen for the ACSAA-Toro honor.
"The selection committee seeks to recognize those students positioned as future leaders in turf science," she said, adding that most past fellows now "are in leadership positions at various institutions known for their expertise in this area."
Earlier in the school year, Vines also took first place in the Southern Division of the American Phytopathological Society's graduate-student research competition. By virtue of the win, he is the division's representative for an August symposium at the organization's national meeting in California.
Information about MSU's biochemistry, molecular biology, entomology and plant pathology department is found at www.biochemistry.msstate.edu.