Advancing the Field - The Newtral Nonwoven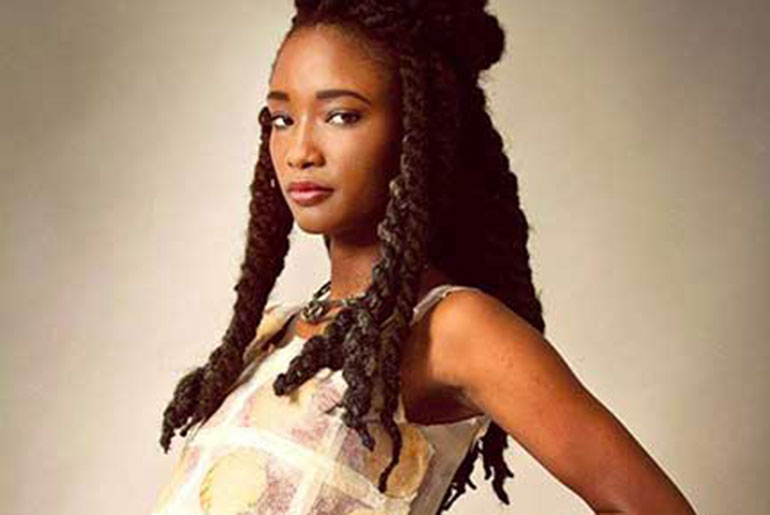 Taylor Howell has taken some tea bags, coffee filters and dryer sheets and turned them into a piece of art.
Howell, a senior Fashion Design and Merchandising student, recently entered this design in the 2015 American Association of Family and Consumer Sciences Juried Design Showcase. The two-piece outfit was inspired by the nonwoven fabrics and materials studied throughout the Advanced Construction course.
The use of nonwovens is increasing due to technological advances, including the ability to engineer them for specific purposes and to recycle them. The design challenge was to create a unique fabric by recycling nonwoven objects and to design a garment to utilize it. The goal is future experimentation with sustainable, disposable clothing.
Howell created a fabric from used dryer sheets, which were cut into two sizes—a larger size for the skirt and a smaller size for the top. Each sheet was decorated with used tea bags and coffee filters that were cut into triangles and circles, respectively. Being left in their post-processed color, these pieces were glued to the dryer sheets. The sheets were sewn into columns and rows using 5/8" seams, creating the size of fabric needed for the patterns. A circular skirt, which was chosen for its ability to showcase the fabric, was adjusted to better emphasize the surface design. The top was designed to take advantage of the linear nature of the fabric and its smaller scale. All garment edges have been left unfinished to emphasize the industrial quality and drape of the garment.
Howell's design has been accepted into the competition.