Historic Costume and Textile Collection celebrates 30 years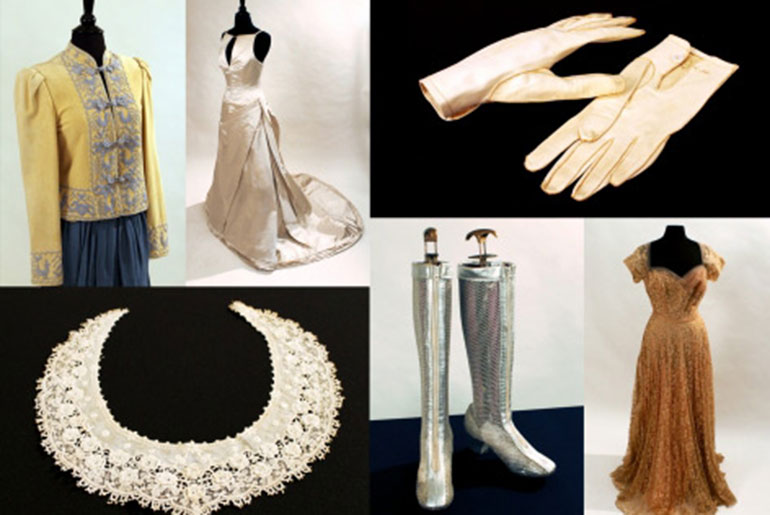 Select items from the Mississippi State University Historic Costume and Textiles Collection are on display March 16-April 9 at the university's Cullis Wade Depot Art Gallery.
Free to all, the second-floor exhibition at the university's Welcome Center titled "Fashion A to Z" will introduce visitors to fashion terminology and a diverse array of costumes, accessories and footwear from the historic collection housed in the university's School of Human Sciences.
Founded in 1985 by retired human sciences professor Catherine Boyd, the collection is home to more than 1,000 garments, hats, accessories and pieces of footwear representing a range of historical periods and styles dating from the mid-1800s to the present.
Led by instructor Lori Neuenfeldt, students taking part in the School of Human Sciences' historic costume course selected more than 26 creations for display. Each student was given a letter in the alphabet and asked to identify a fashion term and item from the collection that corresponded with the letter.
Exhibit highlights include an elaborately beaded bodice from the 1890s, lace from the early 1900s, a pair of "space age" boots from the 1960s, and items by luxury design labels such as Vera Wang, Chanel and Yves Saint Laurent.
An opening reception for the exhibit takes place March 19, 5-6 p.m., in the same location. Refreshments will be provided.
From making marketing and layout decisions to applying and enhancing their knowledge of photography and graphic design, students are enjoying the opportunity to "experience all sides of the exhibition process and form a connection with the Historic Costume and Textiles Collection here at MSU," Neuenfeldt said.
"They are learning how to handle and display historic garments and objects, just as a professional in the museum field would," added the university's Visual Arts Center Gallery and Outreach Programs coordinator.
Senior Kateland M. "Katie" Brown, a human sciences/fashion design and merchandising major from Olive Branch, said the fashion exhibit "is going to be one for the books."
"I encourage everyone to stop by and take a look at all the fabulous pieces on display that have been given to the Historic Costume and Textiles Collection," added Brown.
The MSU exhibition and related programs are made possible by the School of Human Sciences and the College of Architecture, Art and Design's art department.
The Cullis Wade Depot Gallery is among several art department venues that regularly features traveling exhibits, student shows, and group and solo exhibitions by professional artists. Gallery hours are 9 a.m.-5 p.m., Monday-Friday.
Additional information on the "Fashion A to Z" exhibit and historic costume course is available from Lori Neuenfeldt at 662-325-2973 or Lneuenfeldt@caad.msstate.edu.
Learn more about MSU's School of Human Sciences at www.humansci.msstate.edu and its Fashion Design and Merchandising program at www.humansci.msstate.edu/students/atm.php.