MSU, City of Starkville proclaim March as Nutrition Month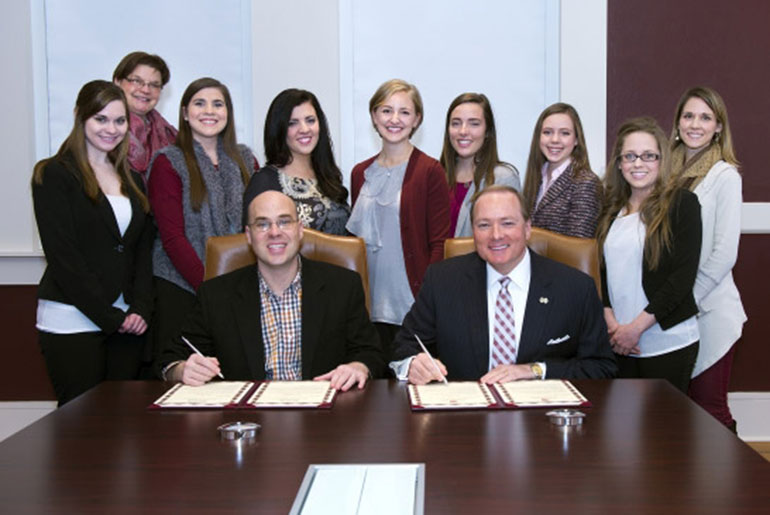 Starkville Mayor Parker Wiseman and MSU President Mark E. Keenum signed a proclamation in honor of National Nutrition Month which is observed in March. National Nutrition Month is a nutrition education and information campaign created annually by the Academy of Nutrition and Dietetics.
Looking on are MSU students majoring in food science, nutrition and health promotion, who also are involved with the Student Dietetic Association.
Pictured from left are Whitney Griffin, a senior from Starkville; Sylvia Byrd, professor and advisor to the SDA; Mary Helen Makamson, a junior from Greenwood and scholarship chair for SDA; Bailey Martin, a senior from Hartselle, Alabama, and vice president of SDA; Anna Laurin Harrison, a senior from Ocean Springs and president of SDA; Sarah Kelley, a junior from Meridian; Haley Wheeler, a sophomore from Huntsville, Alabama, and SDA secretary; Lindsey Wilson, a senior from Tupelo and SDA treasurer; and Mandy Conrad, a registered dietician and health and wellness educator with MSU's Longest Student Health Center.
Throughout the month SDA members have volunteered to promote good nutrition at local events and elementary schools. On March 21, members of the organization will volunteer with The Big Event and set up an informational booth at the "Go. Paint. Starkville." run organized by MSU's Department of Health Education and Wellness. On March 26-27, students will attend the annual meeting of the Mississippi Academy of Nutrition Dietetics in Jackson.
For more, follow the Student Dietetic Association online at www.facebook.com/MSStateSDA. For more on National Nutrition Month, visit https://www.eatright.org/food/resources/national-nutrition-month.