Kroger Co. sponsors MSU food camp with $50,000 gift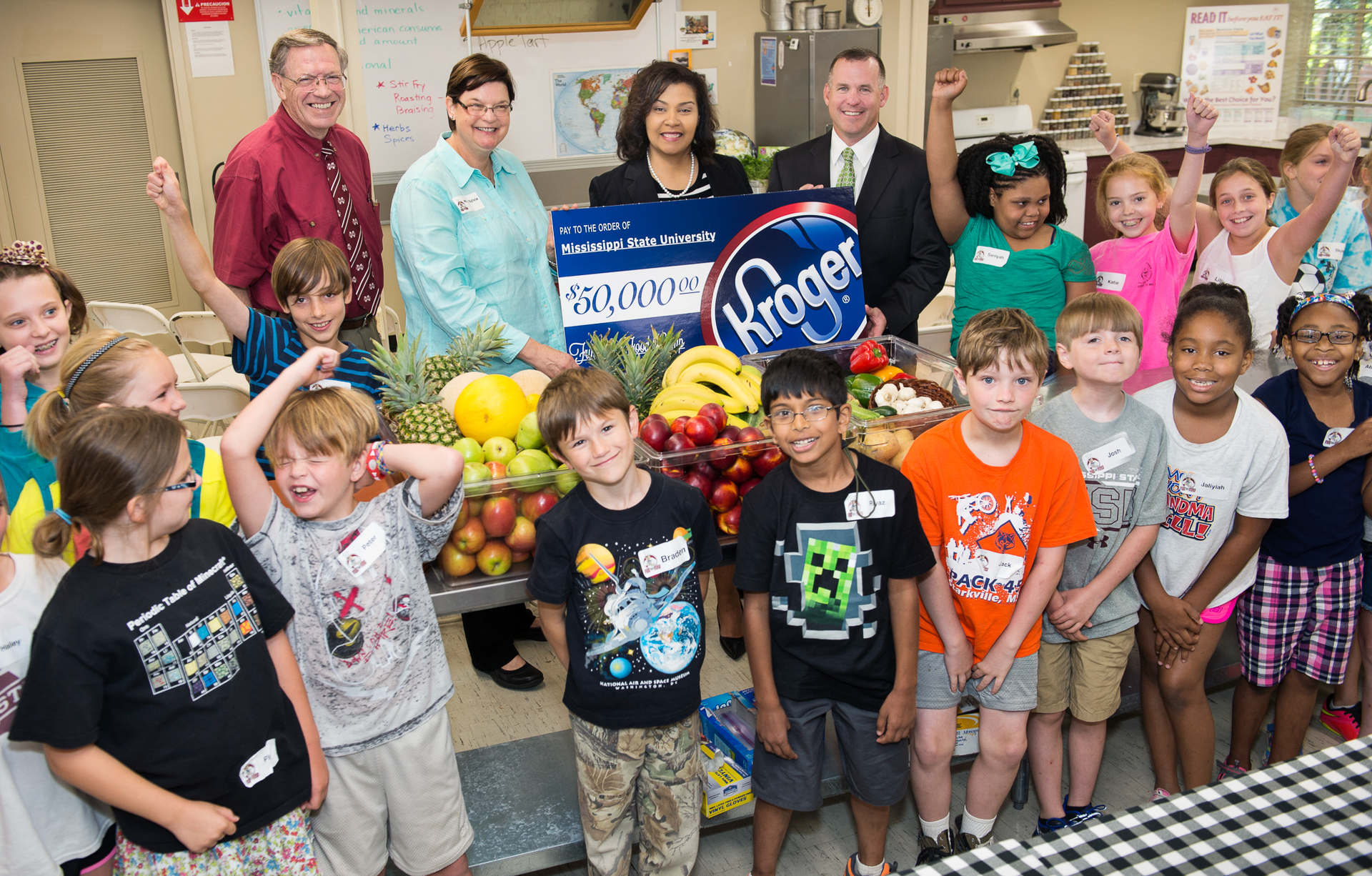 Pictured with this year's Fun with Food campers are, back from left, Dr. Reuben Moore, associate director of the Mississippi Agricultural and Forestry Experiment Station; Dr. Sylvia Byrd, professor and camp director; Teresa Dickerson, public affairs manager for Kroger's Delta Division; and Jud Skelton, director of development for MSU's College of Agriculture and Life Sciences.
A gift from The Kroger Co. is funding scholarships for the Fun with Food Camp at Mississippi State University.
Kroger's Delta Division formally presented the $50,000 gift at the week-long camp on June 16, 2015. Teresa Dickerson, public affairs manager for Kroger's Delta Division, attended the camp for the first time and said the camp reflects Kroger's mission of educating children about nutrition.
"Kroger has three main focus areas dedicated to service: feeding hungry families, education, and health initiatives," Dickerson said. "Healthy children become healthy adults so we are thrilled to sponsor this camp that educates young people about nutritious food." The Fun with Food Camp, led by Dr. Sylvia Byrd, extension professor, is hosted by faculty in the university's Department of Food Science, Nutrition, and Health Promotion in the College of Agriculture and Life Sciences. The camp, which has served over 200 children since its inception, immerses children in hands-on food preparation and lessons about food from farm to table. Afternoon field trips illustrate lessons learned in the morning sessions, including trips to the Mayhew Tomato Farm and several MSU facilities including the R.R. Foil Plant Science Research Center, the H.H. Leveck Animal Research Center, and the Custer Dairy Processing Plant.
Kroger has provided support for the university camp since its inception in 2007.