Excellence Fund honors Davis and his research career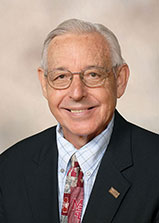 A $50,000 gift from DuPont Pioneer will establish an excellence fund in the College of Agriculture and Life Sciences in honor of longtime Mississippi State University entomologist Frank Davis. The gift will help continue the insect rearing workshops founded by Davis and enhance the research facilities at Mississippi State.
The gift establishes the Frank M. Davis Fund for Excellence in Insect Pathology and Insect Rearing in the Department of Biochemistry, Molecular Biology, Entomology and Plant Pathology. DuPont Pioneer, the world's leading developer and supplier of advanced plant genetics that provides high-quality seeds to farmers in more than 90 countries, gave the gift in Davis' name because he helped the company begin its insect-rearing program. He also shares new information and procedures with them, as he has done for several other companies over his career.
Davis, originally from the Mississippi Delta, graduated from MSU in 1965. He earned bachelor's, master's, and doctoral degrees in entomology by the age of 25. After college, he remained in Starkville and accepted a position as a research entomologist with the Mississippi State-housed U.S. Department of Agriculture - Agricultural Research Service's Corn Host Plant Resistance Research unit. Shortly after, the Mississippi State Department of Entomology invited Davis to become an adjunct professor. He spent 36 years with the USDA and still serves as assistant director for the university's Insect Rearing Center and an emeritus adjunct professor of entomology and plant pathology.
The Insect Rearing Program began at Mississippi State in 1999 because "there was a need for formal education in insect rearing," said Davis.
The program started with rearing a few species, but soon requests were made for more species to be cultivated. Due to the popularity and high demand for the program, additional funds were disbursed by Mississippi State to construct a production house.
Davis said, "We have more people interested in insect rearing than ever before, and Mississippi State is an example of a program to follow since insects are needed for protein and can help reduce world hunger. Our university is a leading producer of food for humans, livestock and domestic animals, and insects research to increase food productivity goes hand-in-hand."
As to the success of the program, Davis cites a specific collaboration between MSU and the University of Alicante in Spain. The two universities have partnered for an insect-farming project in Kenya to increase the protein supply in poverty-stricken areas. Davis said he hopes this project will alleviate hunger problems the people face.
The Insect Rearing Program has increased in popularity in recent years. Individuals from 38 states and 30 countries outside of the United States attend an annual workshop, hosted by the Mississippi Agricultural and Forestry Experiment Station, that covers major components of a successful rearing program. The week-long event includes lectures, tours and guest speakers, and the workshop honors a select individual each year. The 2014 workshop will be named in memory of Davis' wife, Carole E. Davis, a local artist and a 1964 Mississippi State English graduate who died in June.
The couple had three children, Frank Davis Jr., Lewis McReynolds Davis and Miriam Elizabeth Davis.
The Insect Rearing Program will use the DuPont Pioneer gift to assist with workshop expenses. Davis also hopes that, with the help of gifts like this, the program can build a second production house to expand the Insect Rearing Program.
"I guess you can say that I have been and still am in 'bug heaven' thanks to my education and to the professional opportunities provided to me by MSU," said Davis, who plans to continue leading workshops and collaborating with companies like DuPont Pioneer in the years ahead.
For more on supporting the College of Agriculture and Life Sciences, call 662-325-2837 or email dbritt@foundation.msstate.edu to contact Dees Britt.