Former Bulldog Athlete, Spouse Support Agriculture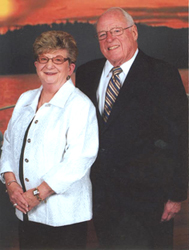 The Fords are among the latest contributors giving in support of a new university initiative. StatePride: An Initiative for Student and Faculty Support seeks gifts from alumni and friends of the university for scholarships and faculty support.
Through StatePride, the Fords have established 10 $1,000 annual scholarships for deserving students in the College of Agriculture and Life Sciences.
The Donald and Phyllis Ford Loyalty Scholarships will benefit entering freshman or community college transfer students with a minimum 3.0 grade-point average who demonstrate leadership potential. Loyalty Scholarships are among several annual scholarships emphasized through the initiative.
The Fords also have established annual awards for exceptional faculty members in the college. Their $40,000 gift will be matched dollar-to-dollar through a special partnership with MSU Athletics, which will result in $80,000 for the college.
Over the next two years, the College of Agriculture and Life Sciences and other colleges will receive matching grant funds from the athletic department to fund a faculty awards program. Needs for each college are dependent on the number of faculty within the individual unit.