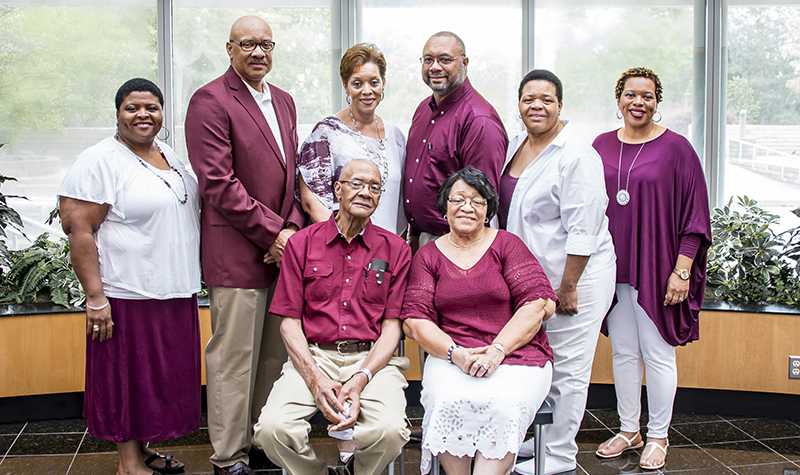 Betty and James Robert raised six children - four girls and two boys - on a family farm in Prairie, Mississippi. They worked to instill an iron-clad work ethic, an unwavering spiritual faith, and a passion for education in each of their children. All of the Rowe children went on to attend MSU and five graduated from the land-grant university. Four of them continued on at Mississippi State and various other institutions to earn master's degrees while two have continued on the path to doctoral degrees. To honor the hard-working legacy of their mother and father, the Rowe children established the James Robert and Betty Rowe Endowed Scholarship in 2017.
The scholarship will assist full-time CALS students who demonstrate academic achievement and financial need. The award gives preference to students from Monroe County and members of Minorities in Agriculture, Natural Resources, and Related Sciences (MANRRS). The inaugural recipient is Norfolk, Virginia native, Dianna Wilson, a junior majoring in Culinology in the Department of Food Science, Nutrition and Health Promotion.
Betty, a native of West Point, Mississippi recalls that she turned eighteen on a Tuesday and married James Robert from Gibson, Mississippi, two days later. That was nearly 60 years ago. The African American couple met at Mary Holmes Community College in West Point, Mississippi.
While Betty planned to continue her education after marriage, a growing family took precedent. Similarly, James Robert focused on supporting the young family by getting a job at the American Can Company in West Point and buying farmland in Prairie, just a few miles south of his hometown. Over the years, Betty and James Robert worked their hearts out cultivating crops and raising cattle all the while serving at the helm of a family blessed with success and steered by faith.
At Mary Holmes, Betty had been an early education major. As a bright young student, she skipped several grades and graduated high school at age fifteen. She began college at sixteen. As a young mother, the early education background helped as she placed emphasis on reading and comprehension for her young children.
"All of our children had library cards by the time they were six years old. We would go to the library and check out books and I encouraged education all along the way," Betty said, who even sold encyclopedias so her children could have a set.
Their son Loston, who earned a bachelor's and master's from MSU in agronomy in 1984 and 1986, respectively, remembers reading the encyclopedias from volume A to Z.
"My parents spent hard earned money on those encyclopedias and all the kids were pretty excited the day they came," said Loston, who points out life on the farm was pretty busy. "Every day before and after school, there were a certain number of daily chores. From planting through the spring and summer months to harvest in the fall, there was always something to do."
He says the experience taught his siblings and him life skills they still use today.
"Farming puts a sense of order in your life because your life is scheduled around seasonal farming activities," Loston said. "You learn how to organize and prioritize. You learn discipline, problem-solving, and accountability because you have jobs to do and no real excuses for not getting them done."
James Robert echoes that sentiment.
"Work ethic is the main thing you gain when you grow up on a farm," James Robert said. "Go to a place right now and say you were raised on a farm. That employer will know you've got the work ethic."
James Robert, who grew up as a Southern black man in the Jim Crow era, helped take care of his family when his father joined the service in the 1940s.
"My dad went into the U.S. Army in 1945. I had three sisters and I was the only son. I was nine years old at that time and had to take on responsibilities," James Robert remembered. "Back then, we didn't have the same opportunities as white people. We had to study just a little harder and put forth extra effort. No one was going to give you a break. That's what was instilled in me during my childhood. I knew I had to work."
Later, as Betty and James Robert's children grew, the emphasis on hard work and education naturally grew into the couple's desire for the Rowe children to attend college.
"I had to give up on my education and do what I needed to do to commit myself to being a mother and wife. Same with my husband. He had to work full-time and run the farm," Betty said. "That's why we encouraged our children to attend college before starting a family."
With Betty as a homemaker and James Robert working at the American Can Company, the family still farmed full-time, harvesting between 800 and 1,200 acres of row-crops and two to three acres of truck crops while raising approximately 50 head of cattle on their land. Row-crops through the years included cotton, soybeans, corn, and hay. Truck crops included peanuts, cucumbers, okra, peas, and more. James Robert managed the row-crops and livestock side of the operation while Betty took care of the truck crops. Betty sewed as a hobby, making dresses for her four girls.
"As a farming family, you did just about everything with your hands. Almost everything you ate, you had to grow or raise. Everything you wore, you had to make," Betty said. "Now, we live in a microwave world. All you have to do is push a button. Our children didn't grow up like that. They grew up using their hands."
Both Betty and James Robert were active in the Prairie community, in their church and as part of the Rural Community Development Club, or RCDC. Betty was a part of the RCDC's Homemakers Club and also served as a 4-H leader. Betty said the family's participation in 4-H is what ultimately led the children to attend Mississippi State.
"I was a 4-H leader for many years and all of the children were involved in 4-H," Betty said. "We taught them how to plant flower beds and how to raise calves, and plenty of other things. Each summer we visited MSU to compete in 4-H events so the university just became a part of our routine."
Loston also said the MSU Extension Service had a big impact on the family while he was growing up.
"The MSU Extension Service has been a big help to us. No matter what was going on in the Prairie community, if we needed answers we would call the Monroe County Extension agent. They'd come check on our crops and give us the information we needed."
Betty says that from 1977 to 1996, at least one Rowe child was attending MSU at any given time. Upon graduation from MSU, Loston went on to earn his doctoral degree from Michigan State University's Department of Crop and Soil Sciences with an emphasis on weed science in 1989. He now lives in Eads, Tennessee. James Darnell Rowe of Stafford, Virginia, earned bachelor's and master's degrees in agricultural economics in 1980 and 1987, respectively. Demetric Rowe of Atlanta, Georgia attended MSU from 1978 to 1981. Lisa (Rowe) Rogers, of Grand Blanc, Michigan, earned her bachelor's in business administration in 1988. Arlington, Texas resident, Candais (Rowe) Hale, earned her bachelor's (1991) and master's (1994) in education while Rita (Rowe) Jackson of Lakeland, Tennessee, earned her bachelor's and master's in family and consumer science in 1996 and 2001, respectively. She is on track to earn her doctorate of education from the University of Tennessee in May 2019.
After the children were a little older, Betty finished her associate's degree and a clerical certification and went to work for the Aberdeen school district first as a teacher's assistant and later in the administrative office. She retired in 2002 after 30 years with the district. James Robert retired from the American Can Company in 1997, after 32 years. Both Betty and James Robert continue to farm a few acres of crops and raise beef cattle.
Betty says the family has expanded exponentially over the years and the emphasis on education is still there.
"We have eleven children because five of our six children have spouses," Betty said, who points out that three of those spouses graduated from MSU. The couple also has ten grandchildren, many of whom have graduated or are attending college. Their grandson Christopher Rowe graduated with a bachelor's degree in agribusiness from MSU in 2010.
Throughout the years, Betty has taught her children and grandchildren to keep the faith.
"I always told them no matter where you go or what you do, put God first," she said.
James Robert says he's most proud of the set of values he sees in his sons and daughters now.
"I always taught the children to do what is right because it is right to do right," James Robert said. "Our children always did right. They never got into trouble. That's the one thing I am most proud of - that our children have values and have valued life every day of their lives."