Honoring Parents, Local Farmers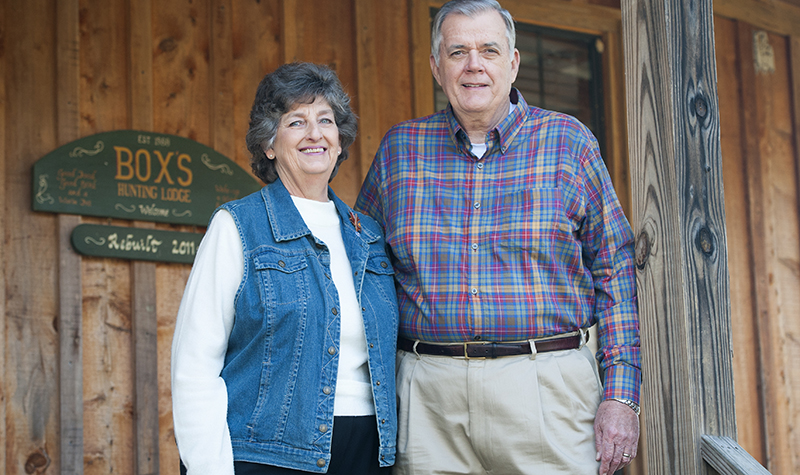 Three separate endowments created by Larry and Florence Box of Starkville will benefit undergraduate majors in Mississippi State's colleges of Agriculture and Life Sciences and Education.
Longtime residents and retired public school educators, the couple recently established the F. Warren and Mary Cowsert Oakley Endowed Scholarship in the College of Agriculture and Life Sciences. The scholarship honors Florence Box's parents, both MSU alumni who operated a dairy and beef cattle farm in the Oktoc community of southern Oktibbeha County.
They also established the Larry and Florence Box Endowed Scholarship in the College of Education. Additionally, their gift fully endows the Barry F. and Mary H. Box Endowed Scholarship established earlier in memory of Larry Box's parents.
Barry Box, who led MSU's educational psychology department before becoming associate dean of the college, has a campus building on Morrill Road named in his honor. Mary Box received both bachelor's and master's degrees in education from MSU.
Beyond Larry and Florence Box's recent outright gift, all three of their endowments will receive proceeds from a gift annuity they created. The scholarships will assist full-time students maintaining minimum 3.0 grade-point averages (based on a 4.0 scale) and displaying leadership abilities, who also demonstrate financial need.
Larry Box holds three degrees from the education college, including a 1966 bachelor's, 1968 master's and 1985 doctorate. In 2014, he received the lifelong designation as an Alumni Fellow of the college, and also has served on the Dean's Advisory Board.
Before serving as Starkville School District superintendent from 1991-2002, the former mathematics teacher was assistant district superintendent and, prior to that, principal at both Henderson Junior High and Sudduth Elementary schools.
Florence Box holds a 1975 MSU master's degree in library science. A career librarian with the Starkville district, she also received a 1966 bachelor's degree in library science from then-Mississippi State College for Women, now Mississippi University for Women.
Over the years, the Boxes have provided support for other areas at MSU, including Mitchell Memorial Library, Starkville - MSU Symphony, and additional scholarship programs.