Building a Bulldog legacy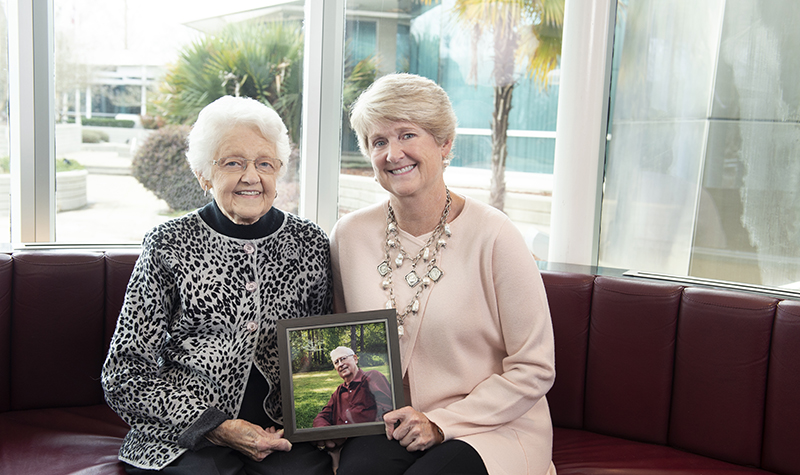 Becky Essig Murphy of Dallas, Texas, believes she's destined to return to her native Starkville as a permanent resident one day—to reaffirm her Bulldog roots and strengthen ties she cultivated earlier in her life. In fact, she's making plans to cement her legacy as a Bulldog through her generous financial support of the university.
Murphy grew up with the MSU campus as her backyard—surrounded by a growing community of Bulldogs as passionate as she was about the university. She attended MSU and graduated in 1983 with a bachelor's degree in home economics from the College of Agriculture and Life Sciences. After graduation from MSU, Murphy began her career in the technology industry when she joined IBM, holding various leadership positions in sales over the next 20 years. The last six years of her time there, she serviced one of IBM's top partners, Sirius Computer Solutions Inc. And in 2007, she joined the Sirius company, where she continues to serve as a senior vice president of sales.
In tribute to her alma mater, Murphy has structured a planned gift through the MSU Foundation. The $1.5 million bequest from Murphy will further a previously-established scholarship endowment and create a second scholarship endowment, both in the College of Agriculture and Life Sciences. She also created an endowment benefiting the new MSU-Oktibbeha County partnership school through the College of Education. Furthermore, the bequest will allow Murphy to establish her own personal legacy at Mississippi State through her giving.
In the College of Agriculture and Life Sciences, the Werner and Alice Essig Graduate Endowed Scholarship was initially established by Murphy's parents, longtime MSU employees who are the namesakes of the financial award. Murphy's dad, Werner Essig, was a 40-year heralded veteran of the Department of Animal and Dairy Sciences, who retired in 1997.
Murphy's mother, Alice Essig, spent some 28 years with the John C. Longest Student Health Center on campus. She was director of nutrition services and had an office in the infirmary where she worked for Dr. John C. Longest, longtime leading physician for which the clinic is named.
The Essigs met at the University of Arkansas, where the two natives of that state earned degrees. Alice, of Parthenon, earned a bachelor's degree in home economics, and Werner, of Paragould, earned bachelor's and master's degrees. He later earned a Ph.D. from the University of Illinois and served the United States Army in the Korean War. In 1959, Werner began his career with Mississippi State College as professor of animal and dairy sciences, just as the land-grant institution became a full-fledged university. He was recognized with the Faculty Award for Research for his career efforts. At the time of Werner's death in 2015, the Essigs had been happily married for 62 years.
Murphy recalled of her father, "He had a quiet manner, and he particularly loved teaching graduate students. He had a great involvement in the university and a strong external reach by consulting in the beef industry."
Murphy fondly remembers attending annual picnics at Ballew Hall for the families of MSU faculty and staff and attending the annual Lyceum Series that showcases national artists in a variety of performance areas, ranging from music, drama and dance. She loved being engaged with the university community.
"My parents loved MSU and wanted to raise their family in a small town with a university," Murphy said. "In Starkville, they had the best of both worlds and were drawn into a team of people at the university and into a community where they had enjoyed rewarding careers and they never wanted to leave. The scholarship bearing their names enables them to always be a part of what became their beloved university."
For Murphy, her bequest also links her name perpetually with Mississippi State. Future recipients of the Becky Murphy Endowed Scholarship will be full-time undergraduate or graduate students in CALS with demonstrated academic achievement of at least a 3.0 GPA, along with leadership ability and financial need.
Beyond scholarships, Murphy's bequest also extends to the MSU-Starkville Oktibbeha County School District Partnership School. The Becky Murphy-Partnership School Endowment for Excellence will assist the university's College of Education and the new school currently under construction. Slated to open for students in the spring semester of 2020, the school will serve as an opportunity to perform research on rural education and serve as a demonstration model for students within the MSU College of Education as well as educators throughout the state and region.
Murphy has been a champion for education during much of her lifetime - a trait stemming from what her parents encouraged in her. In Texas, she has been a part of Communities in Schools in Dallas for 16 years and dedicated time serving that organization's board. The organization focuses on keeping at-risk students in school.
"I know from the values my parents instilled in me and in my brother, Steve, that as a responsible individual you should consider how you can do your part and positively touch the lives of others and look toward the future," said Murphy.
She continued, "Mississippi State is who I am and remains a large part of my life. I was born and raised a Bulldog and making this bequest seems the right way to make a greater impact beyond my lifetime," said Murphy.
For Murphy, coming home to Starkville is an appealing plan - and as with the bequest, she feels it is the right plan for her future.
"This place has always been home and I want to do my part in ensuring its future. Whether you're raised a Bulldog after birth like me or become a Bulldog later in life by association, the university will always welcome you home," said Murphy.