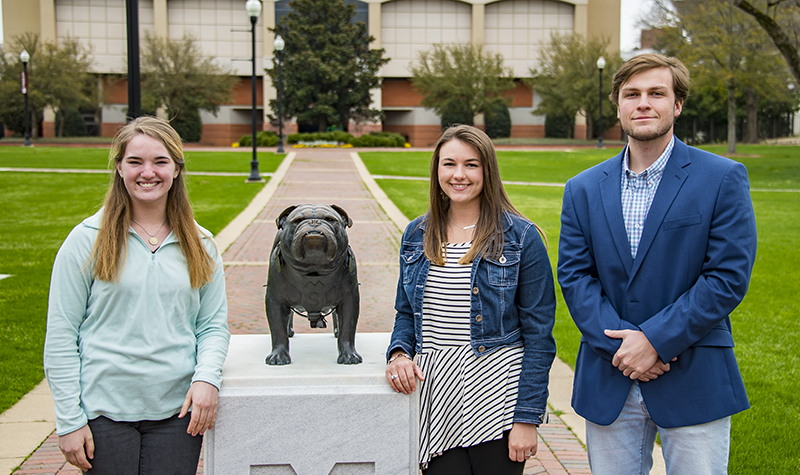 The Robert J. "Butch" Alpe Endowed Scholarship honors the late Butch Alpe, longtime champion of Mississippi agriculture.
The scholarship was established by the Mississippi Agricultural Industry Council, or MAIC, in 2013 and named in Alpe's honor in 2017, a year before he died.
"This scholarship in honor of Butch is fitting as he cared deeply about students and the future of agriculture," said George Hopper, dean of the College of Agriculture and Life Sciences.
The longtime Starkville resident, was involved in the council for nearly 35 years, first as a general member, then six years on the board, and 14 years as secretary/treasurer. Alpe's career spanned private and public industry. Dr. Tim Walker, current president of MAIC, said Alpe spent his life as a supporter of Mississippi agriculture and an integral member of the MAIC family.
"Butch has meant so much to our council. He worked year in and year out to help grow our organization to one of the largest of its kind. He also strived to grow Mississippi's agricultural industry as a whole," Walker said.
Walker said Alpe always had his finger on the pulse of Mississippi agriculture.
"Butch was incredibly knowledgeable about the issues Mississippi agriculture faced. He had relationships with policy makers and stakeholders and did a good job of helping to build a consensus so that, regardless of the ultimate decision on any given issues, he was sure Mississippi agriculture had a voice in the discussion," Walker said.
Recent Robert J. "Butch" Alpe Endowed Scholarship recipients discussed how the scholarship has made a difference in their lives.
Horn Lake, Mississippi native, Cristina Griffith, is a sophomore agribusiness and agricultural engineering business technology double major.
Griffith chose to study agriculture because of its importance to the world.
"Everything we eat or wear comes from agriculture; gas and medicine stem from agricultural products," Griffith said, who has studied abroad in Colombia. "I would like to eventually work internationally to introduce and implement more technology into farming systems."
Griffith said the scholarship has been critical in her academic pursuits.
Sumrall, Mississippi native, Ember West, is a poultry science junior.
West, who grew up on a farm, said the scholarship meant a lot in helping her in her academic pursuits.
"By receiving this scholarship, I have been able to further my education and promote the field of agriculture while doing it," she said. "This is especially important to me because agriculture is such a big part of my family and now my future."
Flora, Mississippi native, Wes Neel, is an agribusiness major. The junior who is pursuing a management concentration said the scholarship has been a blessing.
"Paying for college is a worry for a lot of people so getting a scholarship is a huge help," he said. "I am very grateful to be a Robert J. "Butch" Alpe Endowed Scholarship recipient."
MAIC membership represents a broad cross section of the agricultural industry from chemical, seed, and fertilizer companies to regulatory groups, academia, governmental agencies, ag media, and growers. Their mission is to represent all segments of the state's agricultural industry and to provide opportunities for education, problem solving, and communication to ensure the viability of agriculture at every level. The Robert J. "Butch" Alpe Endowed Scholarship is one of many scholarships established by MAIC.