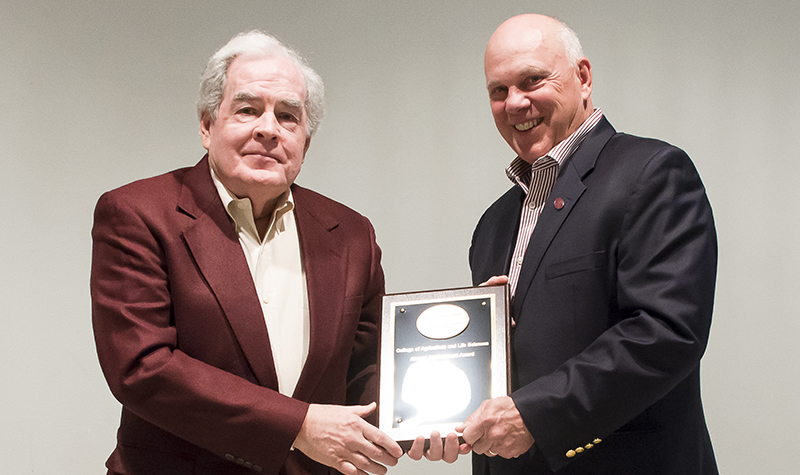 A Mississippi State University alumnus has made plans to establish an endowed agricultural real estate professorship, creating an infinite impact through the College of Agriculture and Life Sciences. With a bequest in his will, John M. Dean creates the John M. Dean Jr. Endowed Professorship in Agricultural Real Estate.
A 1966 agribusiness graduate, Dean is owner and operator of Leland, Mississippi-based Landmart: A Dean Land & Realty Company. He was also named an Alumni Achievement award winner in 2016 by the MSU College of Agriculture and Life Sciences.
"We are grateful to Mr. Dean for his bequest which will strengthen the Department of Agricultural Economics well into the future," said George Hopper, dean of the College of Agriculture and Life Sciences.
Will Staggers, assistant director of development for the College of Agriculture and Life Sciences added that an endowed professorship dedicated to agricultural real estate will further enhance student learning.
"This is a niche area that is extremely relevant for future graduates," Staggers said. "Our students are exposed to tax evaluation analysis for farm land, agriculture real estate, as well as resource land use economics."
Keith Coble, professor and head of the Department of Agricultural Economics, noted the importance of what this gift means to the department.
"This endowment for a professorship is of enormous value to the department. This gift will help retain and attract a faculty member with expertise in this area," Coble said. "It will also support teaching and extension efforts related to agriculture finance and real estate. All of Mississippi agriculture will benefit."
John Dean said he began to realize a few years after he graduated the unique benefits and contacts that were made possible through his educational experience while at Mississippi State.
"I made the decision then to give back financially to the university at the appropriate time when my career would allow. I felt the need to designate my gift toward enhancing an undergraduate course concentration for careers related to aspects of agricultural real estate," he said.
Dean consulted with the MSU Foundation to make the bequest in his will which allows him to leave a lasting legacy at Mississippi State University.
"I cannot say enough about the helpful guidance and professionalism exhibited by staff in the Mississippi State University Foundation, who helped me through this process," Dean said. "They are, and will continue to be, a credit to the university and its success."
John M. Dean (Agriculture, 1966) received an alumni achievement award from CALS Dean George Hopper at the CALS Alumni breakfast on April 8, 2017. (Photo by Karen Brasher)