Going the Distance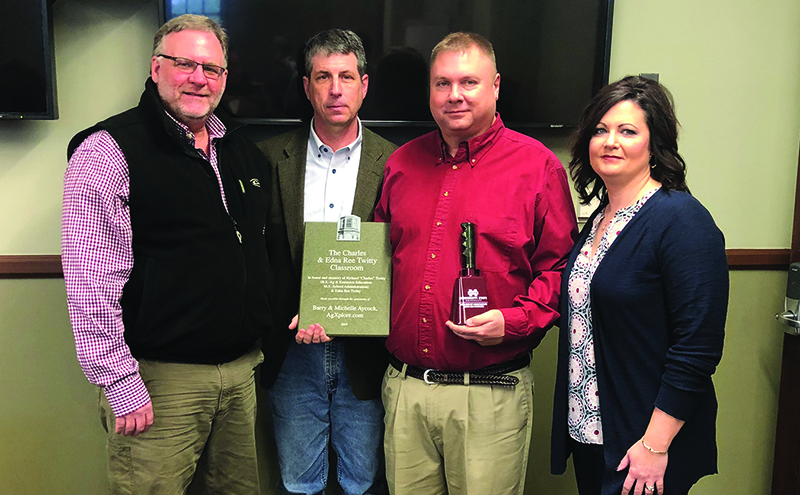 Lloyd-Ricks-Watson Classroom dedicated to Richard Charles and Edna Ree Twitty
The legacy of longtime bulldog Richard "Charles" Twitty and his wife Edna has been memorialized in a classroom in Lloyd-Ricks-Watson, which houses both the Department of Agricultural Economics and the School of Human Sciences. Charles, a longtime bulldog and two-time graduate of the university-earning his bachelor's degree in agricultural and extension education in 1955 and master's degree in school administration in 1971-dedicated much of his life to agriculture. First, he served as the Lee County Extension agent, and after retiring from the MSU Extension Service, he embarked on a second career in agricultural sales.
Barry Aycock, founder and president of AgXplore, pledged the donation in the Twittys' honor. Aycock said Charles took a chance on him when he first started AgXplore.
"I've known Charles half my life and when I started AgXplore in 1999, Charles took a chance and ended up spending nearly 15 years helping us grow the company," Aycock said.
Aycock said AgXplore, which manufactures and markets nitrogen management aids, specialty fertilizers, adjuvants, and micro-nutrients, had just two employees when Charles came on as a sales manager. Since then, the company has grown to 80 employees worldwide with distribution in 40 states and 14 countries.
"We grew from a zero dollar company to a $50 million company and Charles is a big reason why. He possessed honesty, integrity, and was the best cold caller I've seen in my life. He was a great mentor to everyone in our company," Aycock said.
Aycock said one of the only things Charles appreciated more than agriculture was Mississippi State sports, noting that the Twittys were true maroon, attending as many games as they could.
Charles died October 30, 2018 and his wife, Edna, passed away just two weeks later.
Aycock said he hopes the couple's legacy will live on through learning at Mississippi State. The Richard Charles and Edna Ree Twitty classroom will impact MSU students far and wide, with proceeds from the endowment being used to advance distance education technology interfaces and facilitate conversion of College of Agriculture and Life Sciences courses into distance education formats to reach more students studying agriculture. "Through MSU alumni and students, the legacy of Charles and Edna will live on for future generations. This gift ensures they are remembered for the work they have done on behalf of agriculture and Mississippi State, because those were the two things they loved besides their family," Aycock said.
The Twittys have two sons, seven grandchildren, and one great-grandchild. Their daughter, Ree Twitty Hester, died in 2014.
Caption: From left to right: Richard Twitty, Russ Twitty, Barry Aycock and Michelle Aycock. (Photo by Jud Skelton)